Bring Back Vita Vea For Short Yardage
October 19th, 2022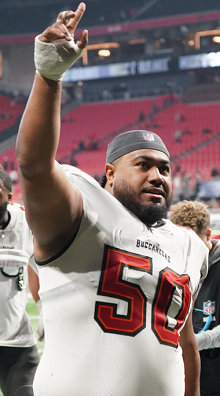 You know it. Joe knows it. Todd Bowles knows it. And certainly Mike Alstott knows it, if he's not already checked into a mental facility after watching the Bucs fail repeatedly on short yardage the past two weeks.
Short-yardage situations are a significant problem this season overall and radical change is in order.
First, Joe thinks Bucs running backs coach Todd McNair needs to coach up Leonard Fournette on going over the top of the line of scrimmage, as was popular decades ago. Fournette has the power and he's one of the NFL all-time greats when it comes to not fumbling.
Second, Joe wants to see Vita Vea return to the backfield, at times, in short yardage situations. He hasn't been there since Week 2 of the 2021 season.
If it was good enough for the Bucs to have Vea in for three offense snaps during the Super Bowl, and at other key moments, then it's worth trying again. Joe loves the distraction element for the defense, and Vea did catch a touchdown pass in 2019.
Status quo in short yardage isn't cutting it. Heck, Joe's up for trying Ke'Shawn Vaughn, too. He runs low and hard.