2 In A Row For Nick Leverett
October 29th, 2022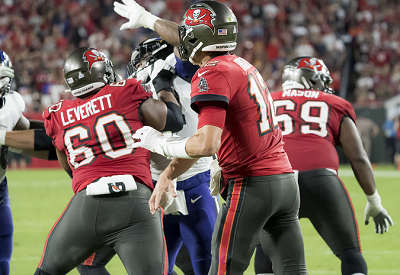 Joe is giving left guard Nick Leverett a solid B+ grade for his first career start Thursday night.
And perhaps the Bucs have found a spark.
Yeah, Joe's reaching on the Leverett sparking the offense, but Joe went back and watched every snap and Leverett played well. Perhaps that will give Tom Brady more confidence in the pocket?
Leverett allowed a little push that led to a pass getting batted down early in the game, but it wasn't much. It wasn't until the Bucs' final drive that he had his first pass-blocking loss. Justin Houston got a roughing the passer penalty on the play. Later in that drive Houston spun away from Leverett for a sack, but that was after Tom Brady held the ball for four seconds, so Joe can't hang that on Leverett.
Prior to the game on the Buccaneers Radio Network, general manager Jason Licht said Leverett is well loved in the locker room and "one thing he brings is a lot of energy."
Licht added that Leverett played well in his first duty of the season Sunday against Carolina while rotating with injured rookie guard Luke Goedeke. And Licht said last year Leverett "held his own against DeForest Buckner," the Colts' Pro Bowl defensive tackle.
Leverett, 25, was undrafted out of Rice University in 2022. The Bucs put him on their practice squad that season and it's clear they've done a solid job developing him.
Between Leverett looking good and Julio Jones surviving a full game and scoring a touchdown, Joe can't say it was 100 percent awful on Thursday night — even if it feels that way.