Tom Brady Explains How He's Motivating The Offensive Line
September 5th, 2022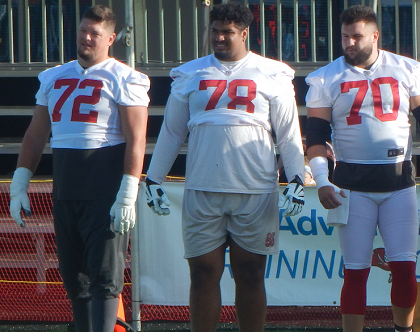 The last time Joe was face-to-face with Tom Brady, The Goat looked in Joe's eyes and said, "I'm 45 years old, man. There's a lot of sh** going on."
Today, Brady was much more upbeat.
This evening was the relaunch of Brady's Let's Go podcast with Jim Grey on SiriusXM Mad Dog Radio.
Joe was dialed in to see if Brady would drop a good Bucs nugget or two, and he delivered as usual.
Obviously, Brady knows the serious challenge in front of him with a new center and a new left guard, two guys with essentially no NFL experience: Robert Hainsey at center and rookie left guard Luke Goedeke.
Don't worry about newcomer veteran Shaq Mason at right guard, Brady said,  "I love [Shaq] to death. I played with him a long time. I know what he's all about."
On Goedeke, Brady said the rookie is "battling every day" and "we'll see if he can get in there and be prepared to do a great job." Brady noted that he will not be a tyrant with Goedeke and Hainsey because he expects mistakes from young players.
However, Brady said he's regularly showing the entire offensive line the negative things media is saying about them collectively.
Brady believes that's healthy motivation and it will continue, he said. Brady explained that he presents the media and tries to rile up the linemen. "'This is what they're all saying about you. What do you guys think? What are you going to do about it?' Make sure they know what everyone is saying. I think that's important.
"… I hope they take it to heart all the things that people have said about them, which is not always the most flattering things. But they gotta go out there and earn it. … Prove people right or prov'em wrong."
---
The Annual Season Prediction Episode Of The Ira Kaufman Podcast; Ira Fires Away On 20-Plus Calls