Todd Bowles Focused On Ego-free Presentation
September 7th, 2022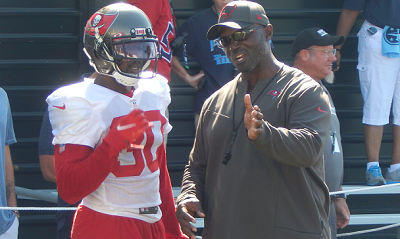 Todd Bowles is such an easy guy for Joe to root for and no, it's not about him sitting down for an hour with Joe and Ira Kaufman late in the spring.
Bowles is a quality guy who seems to have a fantastic handle on how to approach his new gig as head coach.
Everything feels right. That doesn't mean Bowles will make the correct decisions and be the motivator and tactician he needs to be, but it sure feels like he's got a winning approach for a very unique situation and roster.
Is Bowles emphatically putting his foot down to change certain about the Bucs? Not really. He explained to Father Dungy on NBCSports.com that he knows he's dealing with a confident club on a hell of a run. So he's not taking a my-way approach.
"I don't want to come across to my team as, 'Now I'm the head coach; we're doing this.' We have a lot of good things in place, and I'm smart enough to be very dumb to keep the good things in place and then to try to add more details, so to speak," Bowles said.

"We went 13-4 but we weren't detailed at the end of the year to win that game; the Rams did a heck of a job. Hats off to them, but we gotta be more detailed in certain things and we gotta have to be accountable for that and they gotta be accountable with each other. And that's the biggest thing I'm trying to get across to them."
Wise, wise move by Bowles. The Bucs are on a historic 22-5 run. The players know the system works and the coaching is strong. Bowles might have a lot of players looking at him funny if he came in with a loud these-are-the-winning-changes message.
That doesn't mean Bowles can't slam his feet down in Week 2 or 3, but it makes a hell of lot of sense to have had a measured and massaged message through his five-plus month as the Bucs' head man.
How measured has Bowles been? A noted trash-talker, Bowles said he has yet to target Tom Brady with a verbal blast.
And Bowles isn't trash-talking for fun, he said, it's about motivating players and getting them used to what they'll hear on the field.