Report: Bruce Arians Under NFL Investigation
September 19th, 2022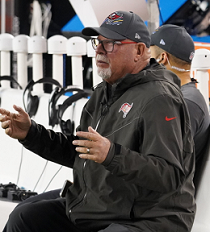 The Bucs-Saints melee has opened a can of worms that should be a non-issue.
Bucco Bruce Arians lasted just one regular season game sitting in a suite with general manager Jason Licht watching games, as was his plan. Yesterday, he was on the sidelines and cameras caught him barking loudly at referees.
Mike Florio of ProFootballTalk.com says the NFL is investigating the fight between Marshon Lattimore and Mike Evans, and that includes Arians' potential role and whether his sideline presence is appropriate.
It's unclear whether the league can direct the Buccaneers to get Arians off the sideline, but it should. He's no longer a member of the coaching staff. He should act accordingly.
Joe disagrees when it comes to Arians being on the sidelines. It's fine. Owners are on the sidelines during games (not Team Glazer) at times, as are players' personal trainers. It's not a big deal. Hell, Joe would be fine with Arians wearing a headset, which he's not.
Officials are free to flag a sideline with a personal foul if anyone on it is being inappropriate. That hasn't happened to the Bucs. Not yet.