Leonard Fournette And Pass Routes
September 21st, 2022
Interesting stats on Playoff Lenny and the passing game.
Playoff Lenny has become a true every-down back. He can run and he can catch. He proved that in Jacksonville but for some reason he got tagged with a hands-of-stone label.
Graham Barfield of FantasyPoints.com had something that intrigued Joe about Playoff Lenny and pass plays. Per Barfield, no running back has run a higher percentage of routes on pass plays than Playoff Lenny through two games.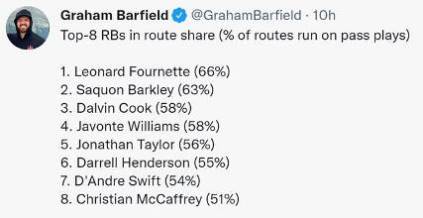 Now why is Playoff Lenny running so many pass routes? Often teams keep a running back in to block. That apparently is not the case with the Bucs.
Maybe the Bucs being so thin at receiver has had Lenny asked to run pass routes because of a lack of depth. Or maybe Tom Brady trusts Playoff Lenny more than he does receivers?
However, even though Playoff Lenny is running a lot of routes, that doesn't mean he's being targeted. Playoff Lenny is 10th among running backs through two games with six targets.
Javonte Williams of the Broncos has been the most-targeted running back (16).
Is Bucs offensive coordinator Byron Leftwich (or Brady?) using Playoff Lenny as a decoy to try to get receivers loose or in open space, baiting defenders to cover Playoff Lenny rather than latch on to a receiver?