Lavonte David's Ridiculous Numbers
September 7th, 2022
Joe and Ira Kaufman are on opposite sides of the fence on this.
Few linebackers have been shat upon more than Lavonte David. All that guy does is produce and all he is given by his NFL brethren and NFL media types and fans is the back of their hands.
Part of this is because David lacks comfortable with the press. Oh, he's a good guy and if folks like Joe that he knows come up and ask questions he always gives his time. But David rarely seeks attention. And in a media world that loves celebrities, that can come back to bite an athlete who needs a degree of promotion to rake in individual honors.
May not be fair, but that's the way it is.
The one time David did a media tour of any sort was when he went to radio row at a Super Bowl in Phoenix. David was upset he had not made a Pro Bowl and decided to bite the bullet and get his name out there.
Guess what? The following season David was named to the Pro Bowl. See how that works? Sadly, that was the only time David made the Pro Bowl. (He was named All-Pro in 2013.)
For a guy as good as David to only make one Pro Bowl is criminal.
So Joe and Ira a couple of times crossed swords on the Ira Kaufman Podcast. Joe thinks since winning a Super Bowl in 2020, David has the goods to get in the Pro Football Hall of Fame. Ira is very pessimistic of David's chances and said his lack of Pro Bowls will likely Pearl Harbor his chances.
Ira claims Luke Kuechly will very likely make the Hall of Fame, yet David's numbers are better. And, as Joe pointed out, David has a big ol' shiny ring, which Kuechly does not.
Ira was unmoved.
Well, here is information by way of Jeff Kerr of CBS Sports. No linebacker other than David, in the history of the NFL, has done what he has done.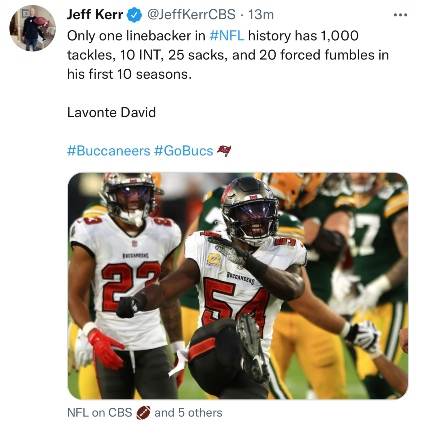 And David isn't done yet. He looks quicker this season and David says he is healthy, too. That helps.
If David puts up numbers again this year and the Bucs win it all, Joe doesn't know how the Hall of Fame voters could sleep at night putting Kuechly in the Hall and not David.