Ira Kaufman's 10 Takeaways From Bucs-Cowboys
September 12th, 2022
BY IRA KAUFMAN
The Bucs had a great deal to do with the Cowboys looking awful Sunday evening.
The first game of the Todd Bowles regime generated smiles all around after a stifling defensive effort against a franchise that led the NFL in scoring last season.
Poor Dak Prescott spent much of the night scrambling for safety while his depleted WR corps struggled to find separation.
To add injury to insult, Prescott hurt his hand and could be sidelined for a few games.
The Cowboys opened the scoring with a field goal on the game's initial drive, but when the clock ran out, Dallas stood alone — the only one of 30 teams underway still looking for a touchdown.
Bowles couldn't ask for much more in his head coaching debut with the Bucs. His team controlled the clock, dominated the line of scrimmage and never allowed the Cowboys to get their huge home crowd into the game. It was an impressive effort that should give Tampa Bay added confidence heading into the Superdome to face a regular-season nemesis.
There's a kind of hush all over Jerry's World at the moment. Here's how the Bucs showed off their skills and grit in front of a national TV audience:
* This was the kind of game I envisioned when writing a recent column suggesting the Bucs will rely more on their defense in 2022. Tom Brady had a quiet night and his two key completions came on spectacular catches by Julio Jones and Mike Evans. The offense sputtered in the red zone and on third down, but Tampa Bay wouldn't allow the beleaguered Prescott to find a rhythm.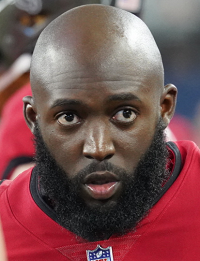 * Leonard Fournette averaged 6 yards per carry behind some solid blocking. He ran left, he ran right and he ran up the middle. Mostly, he ran over any Cowboy in his way. Three of his 21 carries gained at least 14 yards. Not bad for a fat guy, huh?
* As a group, the revamped offensive line held up their end. Protection became more challenging once Donovan Smith departed with an elbow injury, but Robert Hainsey and Luke Goedeke acquitted themselves well. Brady was dropped twice by Micah Parsons, but there's no shame in that because Parsons may finish with 20 sacks this year. Yes, he's that good.
* Except for one missed FG try that drifted wide left, Ryan Succop was spot on. The 2021 Bucs attempted only 31 field goals. This year figures to be a very different story.
* Virtually every Dallas pass was contested. Buc fans didn't see the 8-yard cushions they have become accustomed to as the secondary draped Prescott's receivers. CeeDee Lamb was no factor, grabbing only 2 of his 11 targets. Carlton Davis and Antoine Winfield led the way for a suffocating pass defense.
* Rookie Jake Camarda showed off his powerful leg by making a dent in the giant scoreboard at AT&T Stadium, but the Cowboys almost blocked a few of his punts. He needs some work on quickening up his contact point.
* The Bucs switched up and placed Shaq Barrett on the right side, hoping to capitalize on rookie left tackle Tyler Smith. Barrett didn't post a sack but he had nice pressures and was in Dak Prescott's face on his interception throw. Let's see where Shaq lines up in New Orleans as he takes aim on Jameis Winston.
* How inept were the Cowboys? They converted 3-of-15 on third down, committed 10 penalties and averaged only 3.8 yards per snap. When Prescott departed late in the game, his passer rating was 47.2.
* Tampa Bay's tackling was crisp throughout as the Bucs allowed only one gain of more than 20 yards. Devin White wasted no time announcing his presence, flashing with a pair of sacks and 7 solo tackles.
* Field position favored the Bucs significantly. The average start for the Cowboys on 11 drives was their own 22-yard line. Tampa Bay's average drive start was the Bucs 34. Just another way to measure Tampa Bay's complete command of the game.