Five Things
September 26th, 2022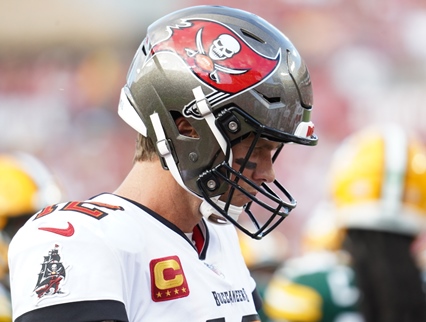 Tale of two sides of the ball yesterday. One was beautiful. The other was uglier than Carrie.
Ugly Offensive Numbers Not New For Byron Leftwich
Joe hasn't typed the following for damn near three years, and when Joe did fans went fully mental. But why be angry with the truth?
Offensive coordinator Byron Leftwich is the only person to ever walk the face of the earth who had two different quarterbacks throw for 5,000 yards in a season. That is a major accomplishment and it made Joe dismiss Leftwich's ugly history in Arizona. So don't try to paint Joe as some sort of hater.
Leftwich was the Cardinals' quarterback coach and after Game 6 in 2018, he took over as offensive coordinator. Unlike here in Tampa this season, Leftwich had a future Hall of Fame receiver for every game, Larry Fitzgerald.
So how did the Cardinals' offense do that year in third down conversions? They finished in last, ranked No. 32 with a 29.15 percent conversion rate.
The Bucs, through three games this year, are dreadful in converting third downs — 12-of-42 for a 28.57 conversion percentage.
In 2018 in Arizona, Leftwich was not working with Bucs Super Bowl-winning coach Bucco Bruce Arians, who had retired (the first time) after the 2017 season.
Leftwich now doesn't have Arians looking over his shoulder (allegedly) as Arians retired (again) in March and got bumped upstairs to the front office.
Leftwich's Arizona offense averaged 1.5 touchdowns a game. Through three games this season, Leftwich's offense is averaging one touchdown a game.
Anyone notice a pattern here?
Yeah, a three-game sample size is likely too small to make any sort of sweeping conclusion. But if the non-production of the offense doesn't have you just as worried about the Bucs offense as Hurricane Ian, then seeing strikingly similar offensive numbers to when Leftwich last ran an offense without Arians on the sidelines should have your antennae up.
The Bucs had Mike Evans, Julio Jones and Chris Godwin in Dallas but let's tap the brakes with excuses about injuries and a suspension.
This narrative pushed by many that Arians was nothing but a figurehead the past three years and Leftwich was the one calling all the shots on offense is starting to smell.
Don't Blame The Defense
Yeah, the defense didn't play lights out in the first half, allowing two touchdowns. But damn they played like the 2002 Bucs defense in the second half.
After the game, Bucs head coach Todd Bowles moaned about how the defense didn't do well in the first half. Joe understands, but let's not go overboard and claim the defense is the problem.
If you have Tom Brady as your quarterback, no one should kill a defense that held Aaron Rodgers to 14 points. Joe had to go back to Week 1 of the 2019 season for the last time the Packers scored 14 points or less and won.
Holding Rodgers and the Packers to 14 was plenty good enough to win (with Brady at quarterback), so long as the Bucs didn't shoot themselves in the foot.
Sadly, the Bucs are looking for several podiatrists today.
Scotty Miller May Have Played His Way Out Of Town
Joe has been a big, big supporter of receiver Scotty Miller. Sadly, it appears time has run out for the Bowling Green product. Since he caught that bomb from Tom Brady just before halftime of the 2020 NFC Championship, Miller hasn't done squat in the passing game.
(Miller did have a cool Benn-Around touchdown last year.)
And goodness gracious he's had chances. When injuries were piling up in the playoffs last year, Miller got snaps and what did he do? Not much.
Yesterday with the Bucs crying for someone, anyone, to step up and produce in the passing game, Miller, who was drafted specifically to take the top off defenses, caught one pass on five targets.
The result? A four-yard catch. Four friggin' yards! How many guys pounding beers in The Licht House yesterday could pull that off?
Look, Cole Beasley was pulled off the street last week. He had three practices and didn't remotely know the playbook. He very likely was not even in game shape. But he produced!
Scotty, if you are still on the team Sunday when the Bucs host the Chiefs (somewhere, depending on Ian's desires), you better produce. You are out of time. The Bucs are all-in and don't have time to babysit guys who cannot make an impact.
No, four yards is not an impact.
The clock is ticking, Scotty. We will always have Green Bay in January 2021. You made the second-greatest play in Bucs history. You will forever be loved in Tampa Bay and may never have to buy a drink here the rest of your life.
But that is history. This season is now. Produce or step aside for someone who can.
Joe never imagined typing the following, but dang, does this team miss Tyler Johnson.
The "Sensitive" Subject Of Gronk's Potential Return
Joe cannot be a hypocrite, so Joe is raising a hand. When (former?) Bucs foot-rubbing tight end Rob Gronkowski retired in June, Joe was banging the keyboard for the Bucs to sign veteran Pro Bowl tight end Kyle Rudolph.
Yet after a few weeks of training camp, Rudolph's lack of snaps and few targets made it clear that he was the Bucs' No. 3 tight end and perhaps No. 4 the way Ko Kieft was blocking his arse off and displaying reliable hands.
Rudolph was not active the first two games, joining Mr. Inactive himself, Kyle Trask, watching Bucs games in street clothes.
Yesterday was Rudolph's first action. Joe is convinced a large reason why is because rookie Cade Otton was back home in Washington state after his mom passed away last week.
Rudolph had one first-quarter target and one catch for 12 yards. It was telling that when the Bucs got in the red zone in the final minute needing a touchdown and a two-point conversion, the 6-6 Rudolph was not on the field.
The Bucs couldn't have used a big target like that to body-up a defender? That tells Joe a lot.
There seems to be nothing not to like about Rudolph. Smart and hard-working. Excellent teammate. Unless he is hurt, the reason Rudolph is playing so sparingly is that he's a poor option at tight end. It's no more complex than that.
Joe can understand why Bucs AC/DC-loving general manager Jason Licht wouldn't want to hack off Rudolph. But dang it, Rudolph is a big boy and the Bucs are going for a Super Bowl. If he's not cutting it, he's not cutting it. If you think Gronk coming off the street with no OTAs or training camp is a better option, then you owe it to the team to bring Gronk back if he wants to play.
Joe is confident Brady's uneasiness without Gronk is a much bigger factor than Brady missing 11 days of training camp over a month ago.
Mike Edwards Going Banking In March
Boy, talk about flying under the radar. Take a wild guess who led the Bucs in tackles yesterday. Not Devin White. Not Lavonte David (close, though). It was safety Mike Edwards.
He's making the most of his first season as a full-time starter. While Edwards didn't have a pick yesterday or a pass defended, he racked up 13 tackles and a tackle for loss.
One reason the Bucs defense is playing lights out is that Jamel Dean is playing the best ball of his career. Edwards also has raised his game. Someone is going to drop a s(p)itload of cash in his lap in a few months.
If somehow Bucs AC/DC-loving general manager Jason Licht can re-sign Dean and Edwards, the Bucs may have the best secondary for years to come.