"Everybody Just Needs To Settle Down"
September 29th, 2022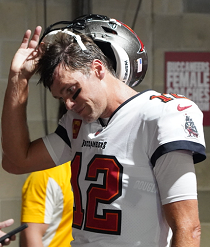 Film guru Hall of Fame quarterback Kurt Warner is not one for hyperbole during his work for NFL Network or when he calls national games live on radio each week.
Warner is all about the film and tapping his deep knowledge of the game.
When it comes to Tom Brady, Warner said on NFL Network this week, that "little bit of panic" fans are having about him and the Bucs offense isn't warranted.
"Everybody just needs to settle down," Warner said. He went to the film to explain and praised Brady for his back-side reads and for throwing dime after dime. He also highlighted a flat route to Jaelon Darden that went for 25 yards.
Yes, Brady's still got the arm and the super-sharp mind, Warner said, so he's confident everything Bucs will be fine when the injury situation around Brady clears up.
Joe shares Warner's optimism.
Things shouldn't be as bad as they are now, but Joe also has to put a fat asterisk next to the slimy Saints game two Sundays ago. Even when the Bucs offense was humming, it couldn't do much against New Orleans — getting shut out last year and held to three points in 2020.