Eddie George Ranks Leonard Fournette As Top-5 Running Back
September 30th, 2022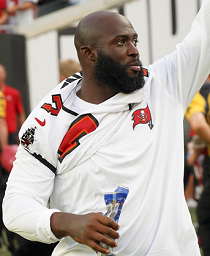 Here's one for the aging-fast folks who would actually care what legendary four-time Pro Bowl running back Eddie George thinks.
George was a college legend at Ohio State and took the NFL by storm in the late 1990s.
He was the ultimate workhorse beast of a running back for the Oilers/Titans. And at 6-3, 245 pounds, he didn't miss a game in his first eight years — as a running back averaging 340 carries a year.
George even topped 400 carries in 2000. Yeah, George would have been a first-round pick in your fantasy draft.
Nowadays, he does some analyst work for The33rdTeam.com, where this week he ranked Leonard Fournette as the fifth-best back in the NFL through three games. George praised Fournette for getting the tough yards and staying very steady in his play and being a balanced player.
In order in front of Fournette, George had D'Andre Swift, Jonathan Taylor, Nick Chubb and Saquon Barkley, who grabbed the top spot for his true "home-run hitter" ability, among other reasons.
Has Playoff Lenny earned the No. 5 ranking? Joe's not sure, but Joe certainly respects George's opinion. If Playoff Lenny is playing that well, then his production should ramp up in a hurry when threatening receivers return to the lineup and keep defenses' focus off the run.