Drew Rosenhaus (Again) Won't Rule Out Rob Gronkowski Returning To Tampa Bay
September 2nd, 2022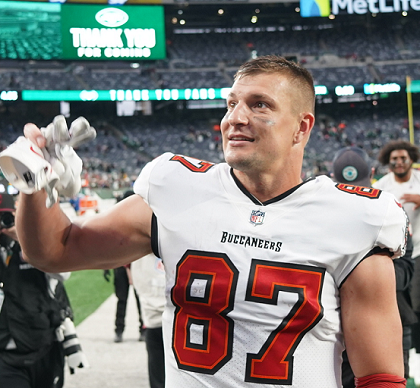 This is a fine way to kick off your Labor Day weekend celebration with a Big Storm beer.
As Bucs fans well know, Hall of Fame tight end Rob Gronkowski is retired. He says he's done with football, but his agent oily Drew Rosenhaus again says he might not be.
Rosenhaus was chatting on video with AP reporter Rob Maadi (video below) and again said it's his firm opinion that Gronk will return to the Buccaneers late this season, if needed on the roster because of the team circumstances.
"I'm not predicting that and I'm not saying that's coming from Rob, because it's not," Rosenhaus said. "Rob says he's retired, but that's just my opinion. I've represented him for more than a decade and that's just my gut feeling."
So what's happening here? Whatever it is, Joe likes it.
And, Drew still wouldn't be surprised if Rob Gronkowski returns to play with Tom Brady and the #Buccaneers later in the season. This is his OPINION. #GoBucs https://t.co/RT2e2dL8Ir pic.twitter.com/KIs9XMXnH5

— Rob Maaddi (@RobMaaddi) September 2, 2022