Did Gronk Turn Down A Bucs Offer?
September 20th, 2022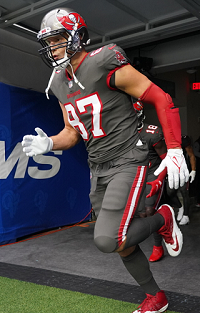 Joe's excited that the Bucs signed talented and productive receiver Cole Beasley today, but it likely has a downside.
If the Bucs determined after two games that they need pass-catching help, Joe would assume the first phone call would go to Rob Gronkowski to see if he's eager to come out of retirement, as his agent has suggested multiple times.
That would have been logical, Joe believes. Bucs tight ends have caught three balls on eight targets this season for a whopping 20 yards. Kyle Rudolph was deactivated for the first two games.
If you're seeking production, red zone help and to open things up for wide receivers, Joe thinks Gronk would cover all those bases.
Instead, the Bucs signed Beasley, and it's highly unlikely he came cheap. Joe guesses Beasley will earn at least $4 million plus incentives for the remaining 15 games.
Hopefully, Joe has this all wrong and Gronk didn't turn down a Bucs offer this week. That would be a little sad.