Derrick Brooks: Leonard Fournette Is Not Capitalizing On Explosive-Play Opportunities
September 28th, 2022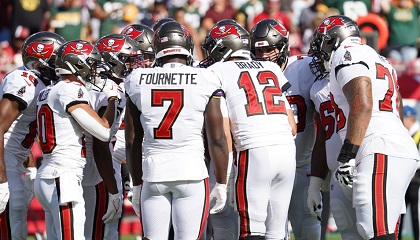 Joe loves when Buccaneers legend Derrick Brooks gets candid.
TAMPA TWO viewers already know about this, but perhaps they didn't grasp the full power of Brooks' words, or the fact that he doesn't usually hit this hard.
"I'm going to dig a little more into the run game and simply say it like this: the holes are there, but the explosive runs are not there with Fournette," Brooks said. "I don't know why the other backs are not being used [because they're] more explosive. For example, and I shared this with, you know, a couple other football minds that saw the same thing I saw [against the Packers]. There were some holes where, you know, Fournette got five, six, seven yards — good, quality yards, don't get me wrong. But a different back in the same hole, that's a 25, 40, maybe 50 yard, one of them possibly could have been a touchdown. That's where I see know the explosive plays in the run game has to improve."
Brooks went on to emphasize how much more important the explosive runs now are since the passing game is struggling.
"I would just like to see the option of another more explosive back in terms of speed downfield, could that be the spark in this offense," Brooks said.
Of course, what makes this very intriguing is Todd Bowles talking today about the lack of holes for Fournette.