Cowboys Watch: 6 Days
September 5th, 2022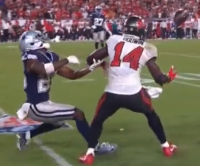 Game week is here.
Joe is fired up!!
Tampa Bay faces the Cowboys on Sunday Night Football. So who will play left tackle for Dallas under the bright lights of Jerry's World?
Yes, the Cowboys signed stud 40-year-old veteran Jason Peters today, but he won't play against the Bucs while he works to get in football shape. So it appears rookie Tyler Smith will start at left tackle.
Joe's not anti-rookie, except Smith spent all summer working at guard because veteran Dallas Pro Bowl left tackle Tyron Smith (no relation) was healthy before blowing out his knee.
So rookie Tyler Smith moving to left tackle is almost the equivalent of the Bucs hypothetically moving left guard Luke Goedeke to his left to replace Donovan Smith.
Yeah, Dallas has issues. Even Jerry Jones himself is talking about paying a steep price and cutting back the offense to account for a rookie left tackle with little practice time.
The Cowboys' receiving corps is a shell of its 2021 self and running on the Bucs is like trying to stop Joe from ordering tater tots at Hooters.
Joe's not seeing the Cowboys offense finding more than three touchdowns.