Cole Beasley Added To The Active Roster
September 24th, 2022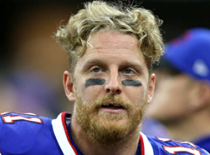 That didn't take long.
Signed to the practice squad early this week, 10-year veteran receiver Cole Beasley was promoted to the active roster today.
That doesn't mean Beasley will play Sunday against the Packers. But Joe sure wouldn't bet against it.
The Bucs could use the spark. And Joe's fantasy life just improved thinking about Mike Evans, Chris Godwin, Julio Jones, Russell Gage and Beasley all being healthy one day at the same time.
Comment closed because it turned into a COVID conversation.