Tyler Johnson, You're Fired!
August 30th, 2022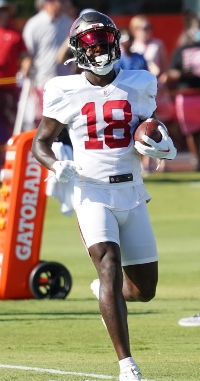 It's not every day that a durable, healthy 24-year-old receiver with playoff experience and 55 career catches gets cut after a strong training camp.
But that's where Tyler Johnson, the Bucs' 2020 fifth-round pick, finds himself today.
Wow! And this is really only a "wow" because Johnson looked in fantastic shape this summer and performed solidly through the preseason.
This is a real eye-opener at JoeBucsFan.com world headquarters, especially as offseason Bucs castoff receiver Justin Watson has become one of Patrick Mahomes' favorite targets in Kansas City.
Perhaps Johnson's drop of a Tom Brady pass in Indianapolis sealed his fate, even though Brady came back to Johnson on 4th-and-5 for a first down.
Joe expects Johnson to be claimed on waivers, which means he'll be on that team's active roster for at least a few weeks.
Good luck, Tyler!
**For those who already have hit Joe with, "it must be something off the field." Joe can't go there. Joe doesn't know Johnson's personal life. However, Joe can say that two Bucs players Johnson hangs out with off the field (Joe has seen it personally) are two of the Bucs' highly-regarded character guys.**