Tom Brady Takes Notes On Bucs Defensive Teammates
August 7th, 2022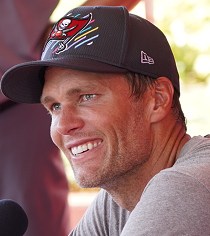 The legend of Tom Brady grows, it seems, every time a former teammate is interviewed.
Today's edition features former bone-crushing Bucs safety Jordan Whitehead (2018-2021). Joe listened to him on The Official Jets Podcast and, eventually, Whitehead was asked about playing with Tom Brady and what he learned.
There were a few things, such as how Whitehead said Brady turned Bucs walk-throughs into jog-throughs — "that was new for me" — and took those sessions heart-attack seriously, including tearing into receivers for lack of precision.
But more interesting to Joe was Whitehead saying that Brady always took diligent notes in team meetings when coaches were talking about specific Bucs defensive players. Whitehead said the only reason he could speculate was that Brady was building a book on weaknesses of players to use at his next team or if they left the Bucs.
Ironically, the podcast was recorded before news broke of Brady being in talks with the Dolphins.
Whitehead went on to say Brady was always eager to explain to him how he reads defenses and Whitehead said that taught him the value of disguise.
Man, Joe has a visual of competitive Brady building a book on Bucs defensive players, just to better attack them in practice in order to beat them and subsequently make them better. And yeah, Joe suspects Brady learned a long time ago that he'd eventually play against most of his teammates, so it's a great idea to know their weaknesses, even at 45 years old.