Tom Brady Passes On Gronk Question
August 1st, 2022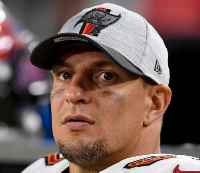 Odd response from Tom Brady today, one that could make a few people think he's still hopeful that Rob Gronkowski will return.
Gronk retired in late June. Brady hasn't held a news conference since early June. So Joe thought it certainly was worth asking Brady how he felt when he got word that the legendary tight end he played 11 seasons alongside, a future Hall of Famer, hung up his cleats.
Brady didn't want to go there, didn't want to reflect on Gronk's career.
JoeBucsFan.com: What were your feelings when Rob Gronkowski retired and how did those feelings compare to when he retired [after the 2018 season]?
Tom Brady: You know, everyone here loves Rob. So, these are personal things and everyone gets a chance to make personal choices. But we all love him.
It was an awfully short answer — and an odd one — to a softball question that set up Brady to glow about his good friend and former(?) teammate.