The "Crutch" Is Gone
August 13th, 2022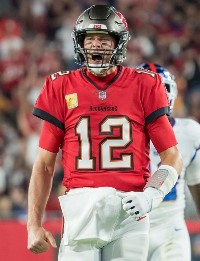 Joe enjoyed hearing one of Tom Brady's former teammates talk about how The Goat treats every preseason game like a life or death experience.
Former Pro Bowl QB and Brady backup Matt Cassel was on ESPN Radio this week talking about the Patriots, the team for which he now covers. But the show hosts couldn't resist asking him about the impact of Brady's mid-August vacation from the Bucs.
The conversation went toward the preseason, with Cassel noting that Brady was the only QB he's ever been around who prepared the same for a preseason game as he did for the regular season — down to film work, meeting time, etc.
Damn, that really made Joe take pause.
The broader point from Cassel was that Brady sets such an incredible standard and tone, the Bucs are going to feel his absence immediately.
Former Jets personnel chief and linebackers coach Pat Kirwan went there a bit on SiriusXM NFL Radio, as well, saying the Bucs now lose "the crutch" that is Brady and the team will be challenged to fill the leadership void and come together in a new way. So Kirwan things Brady's sabbatical is a very good thing for the club.
Joe's heard other ex-players talk this week about the Bucs being challenged to fill the "leadership vacuum" Brady's vacation creates, and they how the team will learn more about itself in a hurry.
Maybe Brady bailing for a while really will be a great thing.