"The Big-Game Gene"
August 9th, 2022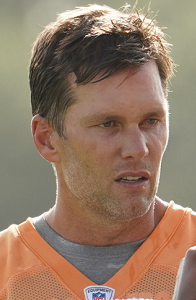 So how much better will Tom Brady get this season?
It's probably a much more appropriate question than asking whether Brady will finally look 45, or even 40.
Hall of Fame QB Kurt Warner was talking on The Rich Eisen Show today on SiriusXM and was asked about Brady's play and if he can still improve. Warner said the word "ceiling" is used often when talking about player evaluation, but it really doesn't apply to Brady.
"Every time we think he's hit his ceiling, he pushes himself to another level and he seems to get better," Warner said.
As for Brady's greatness, Warner sees no sign of it waning. "You never grow out of that big-game gene, and not everybody has it," he said.
Brady friend and former Belicheats mentor and playcaller Charlie Weis was at One Buc Palace on Saturday studying the Tampa Bay offense and talking to various Bucs types.
He was blown away and implied that Brady's ceiling hasn't lowered.
"I mean, I watched him. He's slinging it all over the yard effortlessly. I'm shaking my head in amazement," Weis said on SiriusXM NFL Radio. "I mean, the guy looks no different than the guy 20 years ago as far as how far he can throw it."
Joe sees Brady as a freakish marvel just like everyone else. It's why Joe is very hopeful that Brady will play in 2023.