Shaq Barrett > Joey Bosa & Robert Quinn
August 12th, 2022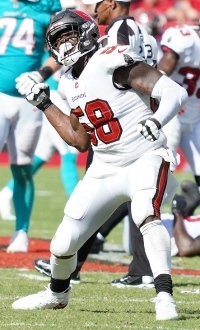 A two-time Pro Bowl pass rusher, a three-time Super Bowl winner, has weighed in with an in-depth look at the best edge rushers in the NFL.
And Joe was very proud to see Willie McGinest dial in and treat Bucs sacks king Shaq Barrett fairly. McGinest named his top-10 edge rushers and gave Shaq the nod at No. 10.
It was no easy task to make a pick for the final spot in the top 10 with guys like Joey Bosa forcing a career-high seven fumbles last season and Robert Quinn coming off an 18.5-sack performance in Year 11. As good as those two players were in 2021, Barrett gets the nod due to his consistency and the fact that he's helped his team get to the playoffs in each of the last two seasons. Barrett's production has been off the charts since joining the Bucs in 2019: 37.5 sacks, 75 quarterback hits, 39 tackles for loss and 11 forced fumbles (all top five in the NFL) … …
Shaq is very deserving, and Joe expects Shaq to have another 10-plus sacks season. Hopefully more.
Interestingly, the Bucs will face five of the other nine edge rushers on McGinest's list this season, including hated Saints DE Cameron Jordan twice. The others are Trey Hendrickson, Nick Bosa, Myles Garrett and T.J. Watt.
Throw in Pro Bowl Panthers edge rusher Brian Burns a couple of times, and the Bucs offensive tackles are going to have a busy year.