No Plan To Play Tom Brady In The Preseason Home Opener
August 3rd, 2022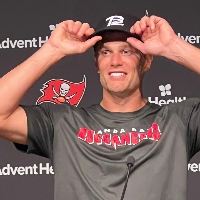 Bucs fans who pay good money to watch preseason football aren't going to like this.
Todd Bowles was asked about the only Bucs preseason home game this season, against Miami in just 10 days at The Licht House. The head coach said he will use the two joint practices held at One Buc Palace for starting players to get most of their important work for the week.
In the actual game, Bowles said the reserves will be featured more under the bright lights and added pressure. And he said Tom Brady will not play.
Joe believes this could change, especially if weather disrupts those two practices with the Dolphins, scheduled for Aug. 10 and 11.
If not, most Bucs fans might have to wait until Aug. 20 to see Brady against the Tennessee Titans. That's a road game.
The Bucs' preseason finale is Aug. 27 at Indianapolis.