Julio Jones Explains Unique Practice Regimen
August 18th, 2022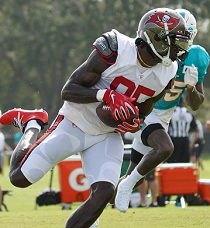 Julio Jones may not be the Tom Brady of receivers, but he's approaching that ballpark, and he's certainly motivated and in fantastic shape for his 12th NFL season.
Joe finally got 1-on-1 time with Julio. One subject was his unique practice regimen on the Jugs machine (which spits balls out to receivers for practice). Julio gets within two feet of it and often is moving around, whereas other receiver or defensive backs just pick a spot and catch the balls.
For Julio, everything is about achieving greatness. And he says that doesn't happen standing still.
"I always just try to move and adjust because you'll never be standing flat-footed catching a pass. So I don't want to create bad habits," Julio said. "You know, that's why I'm always stepping forward and moving closer and closer. On shallow routes, quick screens, things like that, the ball can get up on you quick so just practice for it — all scenarios."
Julio also works during special teams periods when most receivers are resting. He did the latter during both days of the Bucs practicing in Tennessee today and Wednesday.
That's not the norm for a 33-year-old receiver.
"That's just me. Any way I can try to get better and work on getting better. If the opportunity is there, I don't like to stand around and do nothing," Julio said. "My job is to catch the football in tough situations and all situations. The more and more you do it, it comes easy to you."
Joe never watched Jones practice before he arrived in Tampa, but he sure looks the part of a superstar. It's hard to tell if he's lost a step because the Bucs aren't pushing him with go routes in August.
But when the time comes, Joe suspects Julio will be prepared.
Flash poll posted at 2:11 p.m.