Inside The Bucs Front Office And Jon Gruden's Angst
August 6th, 2022
BY IRA KAUFMAN
Brace yourself for more sweeping changes at One Buc Place.
It appears this will be Tom Brady's final season under center for Tampa Bay — and the ramifications of his departure can't be overstated. A key figure in the front office is also likely to leave, according to one of the NFL's most influential power brokers.
You probably don't know who Bob LaMonte is — and he likes it that way. Lamonte is the unassuming president of PSR, a firm he started in 1979 that has grown into a lucrative haven for coaches and general managers.
Instead of focusing on players, LaMonte and his group represent the executives and coaches who wield real power in the league.
Among his clients are Bucs GM Jason Licht and John Spytek, Tampa Bay's VP of Player and Personnel. Licht personally recruited Spytek to come aboard in 2016 after Spytek had worked in Denver, Cleveland and Philadelphia.
"John and Licht are very tight and Jason thinks the world of him," LaMonte told me over breakfast at a Tampa hotel. "They go over everything together. He knows John will be a GM in this league. John had a very good opportunity of getting the Pittsburgh job in March, but the Steelers decided to stay in house with Omar Khan, who had been there 21 years.
"That wasn't a surprise. John was told by that organization, 'You're gonna be a GM.' He has a tremendous personality, he's a likable guy. More importantly, John's really, really smart and he knows the game. He's more than ready and he's young — everybody today wants young. Jason kind of knows it's going to happen. I'd be very surprised if by next year, John doesn't have a GM job."
Licht is one of 13 NFL GMs represented by LaMonte, who has quite a streak going. For each of the past five years, a head coach or a GM under the PSR umbrella has ended the season clutching the Vince Lombardi Trophy.
In addition to drafting wisely in recent years, Licht has acquired substantial talent through free agency.
"Even with adding Tom Brady, the GOAT, if you watched that Super Bowl, Tampa Bay won with the defense Jason put together," LaMonte says.

"They crushed a Kansas City team that was putting 35 points up on everybody. When someone has had success within an organization, we feel it behooves both you and the organization to stay. Jason isn't looking to go anywhere else and the Glazers know he's good. To my point, that's a marriage.

"The Bucs have a very good group of core young players. Jason wouldn't have survived that long here if ownership didn't know he was good at his job."
"That Was A Hit Job"
LaMonte and Jon Gruden go back a long way. They rejoiced together after the 2002 Bucs trounced the Raiders in the Super Bowl. Almost two decades later, when Gruden lost his job with the Raiders midway through last season, his long-time agent offered constant support.
"Jon's doing a lot better now," says LaMonte. "He was in a state of shock and I was worried about him when this first broke because it was a shot in the dark in the middle of the night. I think the hardest thing for him was that it's in the middle of October.
"Supposedly, all this information was known in August. Why now, of all things, does that come out in an investigation that had already gone away?
"And it was 10 years ago. And then why Jon and why the Raiders? He wasn't even in the league at the time of those e-mails … that's the tragedy of it. You can say what you want, but if anyone really understands Jon, they know he's not a racist. That's quite obvious. No one would ever say that."
Since parting ways with the Raiders, Gruden sold his Las Vegas home and returned to Tampa.
"The biggest thing that got him was Jon had called Roger Goodell a female body part that wasn't becoming," LaMonte says. "I guess he made some bad comments about the Glazers, but you have to realize he had just been fired by the Bucs and he thought he was on private e-mails. A lot of people when they're fired say bad things.
"It took a very bad toll on him. Jon will tell you he's a boring guy. The guy watches films all day, that's what he does. He's basically a football junkie and you took it away from him. His family was destroyed, his wife's answering questions, his son works for the team. I can tell you right now that was a hit job.
"This wasn't good for anybody. That's why he ended up suing the NFL and Goodell — because everyone knows it was wrong. You have 650,000 e-mails and his six were picked out … and he wasn't even in the league. He prevailed in court and he will prevail again.
"I really believe in my heart and soul he will coach again. I'd be very surprised if he didn't. My question is what did Jon really do? Most people wouldn't want their private e-mails from 10 days ago looked at. That's why if this were to go to trial, it would be devastating for the National Football League.
"I think Jon looks younger, happier and better now. He's an infinitely wealthy person and the irony of this lawsuit is that everyone says he'll make a fortune, He doesn't really need the money. All Jon Gruden wants is his life back — and he's going to get it back."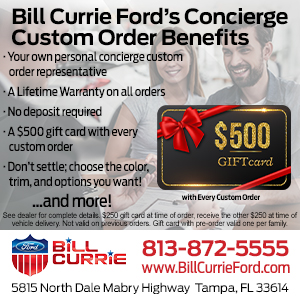 ---
Ira Kaufman Talks Tom Brady & His Miami Mess, Chris Godwin's Return, Kyle Trask Struggles & Future, Todd Bowles' Revelation, Mike Evans' Hamstring, And Much More