"I Thought He Progressed Greatly"
August 30th, 2022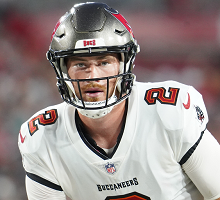 The door was open for Bucco Bruce Arians to make a bold statement on third-string quarterback Kyle Trask.
The best head coach in Bucs history didn't run through it with his hair on fire.
Arians went on a media tour today promoting September's National Cholesterol Education month (is it ok to feast at Burger Monger while you educate?) and joined The Rich Eisen Show, which Joe heard on SiriusXM.
There he was asked about Trask, the Bucs' second-round draft pick in 2021 Joe was hoping Arians would say something like, "Kyle is on track to be a starter next year " or "Trask would be the No. 2 quarterback on nearly every team in the NFL," but Arians didn't go there with the Trask love.
"I thought he progressed greatly," Arians said, noting that Trask got a lot of reps this summer and played well at the University of Florida in 2020.
Arians also added that he likes Trask's feel for the deep ball and that Trask has every question answered for him in the Bucs' deep quarterback room.
It wasn't the endorsement Joe was hoping to hear. Yeah, Joe's being picky, but considering Trask is about to disappear for several months Joe's diving into what might be the last public morsel on Trask in a long time.