"I Had A Little Groupie Moment"
August 10th, 2022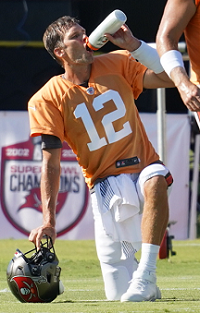 Joe loves a great Tom Brady story that involves one of Joe's favorite Buccaneers of all-time.
The ex-Buc is Donald Penn, the former Pro Bowl left tackle who manned the position for the Bucs from 2007 through 2013. He went on to play for the Raiders (two Pro Bowls) because Lovie Smith and Jason Licht didn't want to keep him.
Disrespect was nothing new for Penn, who routinely was blasted for his weight; meanwhile, he was one of the most durable left tackles in NFL history (194 games)
Penn is still a big Bucs fan (and a JoeBucsFan fan) and was a guest co-host last night on SiriusXM NFL Radio.
In a discussion of the Bucs, Penn shared his Tom Brady story. Back in 2009 as a third-year player for a miserable team, Penn set out to say hello to Brady in the postgame frenzy, just for the sake of meeting Brady. The Bucs were blown out by the Patriots and Penn found Brady.
To his surprise, Penn said Brady addressed him by his full name and told him what a great player he is and that he's been watching him. Penn was stunned, he said, floored that Brady knew who he was.
"I had a little groupie moment," Penn said of the interaction and the aftermath of him telling his Bucs teammates.
Fast-forward to 2019 and Penn is closing out his career with Washington as their starting right tackle.
"My last year in Washington, I asked [Brady] after the game for his jersey. And he was like, 'Man, AP already beat me to it.' But he was like, "you know what, I'm going to mail you one.'" Penn said. "That Wednesday, FedEx came and he signed it personalized to me to me. You know, he didn't have to do that. I have a lot of respect for Tom for doing that. He didn't have to do that."
Yes, the legend of Brady has touched generations of NFL players and fans.
It's no surprise that he's universally beloved and respected among players.