"He Has The 2019 Version Of Julio Jones"
August 12th, 2022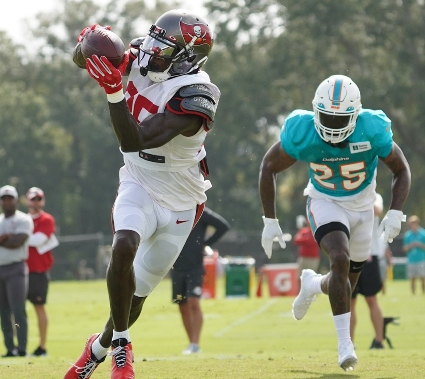 A former teammate of Julio Jones sees what Joe sees.
Speaking on First Dump, the popular ESPN TV show, retired Falcons and Titans receiver and Harry Douglas talked about seeing the chemistry between Tom Brady and Julio at Bucs practices and noted how it's obvious they've formed a bond.
Joe previously referenced the NFL Network live practice video that focused on Brady. He was shown repeatedly laughing and talking with Julio and, as Douglas called it, "going to Julio Jones over and over again."
Speaking on a different BSPN show, NFL insider reporter Jeff Darlington talked about being at Bucs practice this week and said, "One Bucs source told me, he has the 2019 version of Julio Jones."
For those wondering, Julio caught 99 balls in 2019 for 1,394 yards and 6 touchdowns in 15 games with Atlanta.
Joe can't help but be overly excited by the Bucs' receiving corps. Joe suspects Brady will be thinking a lot about them during his August vacation.