Ex-GM: Bring Tom Brady Into Center Decision
August 1st, 2022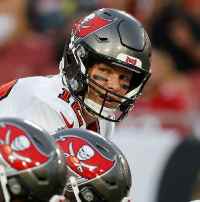 Joe has said the center call after Ryan Jensen's ugly knee injury is Tom Brady's audible to make.
Does anyone believe Brady will or should play behind a starting center that makes him uncomfortable?
That's no knock on the Bucs front office, only reality.
Even if Todd Bowles wants one guy at center, and general manager Jason Licht wants another, and the O-line coaches have their opinion, Joe will wager that ultimately it's Brady's call.
And rest assured Brady won't go with a guy like Joe Hawley, who was getting mauled up the gut during Tampa Bay's exciting 2016 season, when weapons were scarce and Hawley was a shade under 280 pounds.
Former Bucs GM Mark Dominik was on the SiriusXM NFL airwaves Friday barking about how Brady's feel must be key to the Bucs' decision at center.
Dominik talked about how executing the snap is more than just the end result. Brady has to like the comfort level and there's always risk that a brand new center will be inconsistent with the snap and "jam [Brady's] ring finger on his throwing hand."
Concern No. 2 with an inexperienced center? Dominik says it's anchoring. "So can you snap it and get your hands on the guy in front of you and at least slow it down, then can you anchor against a 340 pound behemoth of a man across from you that's about to rip your head off."
And this is why practicing in pads, which begins today, is everything.
For center hopefuls like Robert Hainsey, it's time to see if they can execute and hold up against Akiem Hicks and Vita Vea.
It's obvious to Joe that Brady's patience is limited. Joe doubts Brady will have a make-the-best-of-it attitude on Aug. 1 like he would on Nov. 1 when other options would be scarce.
The Bucs' young centers best be on their games or they will be out of the running to replace Jensen in 10 days or less.
---
All kinds of great stuff in the weekend edition of the Ira Kaufman Podcast following 4 days of camp.