Dan Orlovsky Thoughts On Bucs Passing Attack
August 26th, 2022
It pays to be a former Bucs backup quarterback.
Of course, most people are familiar with Chris Simms. He works for NBC and can be seen weekday mornings co-hosting "Pro Football Talk" streamed on Peacock.
Then there is rotten Ryan Fitzpatrick. Last night be began his broadcasting career as a pregame, halftime and postgame analyst on Amazon's coverage of the NFL. He worked the 49ers-Texans game in Houston.
And then there is Dan Orlovsky. Many Bucs fans probably don't remember Orlovsky playing for Tampa Bay, but he did. He's gone on to bigger things working with BSPN.
So if you are a Bucs backup, you have a shot to make good TV coin after your career. Should we ready ourselves for Blaine Gabbert on CBS?
At any rate, Orlovsky works for BSPN. Like Simms, Orlovsky often can be seen weekday mornings on BSPN shows like "Stay in Bed" and "First Dump."
Orlovsky recently Twittered how he believes the Bucs offense, not by choice, will no longer be the no-risk-it, no-biscuit offense. And that's not because former Bucs Super Bowl-winning coach Bucco Bruce Arians will be sitting in press boxes this fall.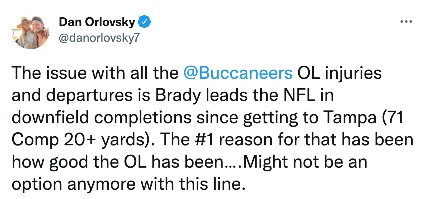 This makes sense on face value. The thing is, the Bucs offense is not geared for dinking and dunking. Oh, Joe suspects the Bucs will throw a lot of passes to Playoff Lenny like Tom Brady did last year. And perhaps Rachaad White will get worked in. But if the Bucs can adjust their blocking to compensate for a new left guard and green Robert Hainsey at center, then why not continue to throw deep? That's their bread and butter.
But Joe can understand how the Bucs may not throw as deep as they did last two years, especially the first few weeks of this season.
No matter how you slice it, Bucs offensive coordinator Byron Leftwich is going to earn that head coaching job he gets for 2023, if he can adjust properly to new personnel and injuries.