"Comfortable" Carl Nassib
August 16th, 2022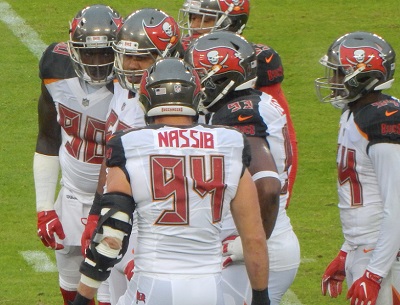 There's a reason Joe was typing yesterday about the Bucs rushing out to sign an edge rusher and Carl Nassib was a prime target — hours before the deal happened.
That Nassib-Todd Bowles connection is strong.
Bowles isn't big on expressing deep love for every player, but back in 2019, Bowles' first season in Tampa, he actually called Nassib one of his "favorite guys." And then Nassib went out and had a fantastic year after transitioning to Bowles' 3-4 defense.
And then there was what Nassib said about Bowles:
"Coach Bowles is probably my favorite coach," Nassib said in 2019. "Don't tell him this, but he's probably my favorite coach I've ever had. He's really smart and he knows football. A lot of time, you get a coach that just knows football, but he's got it all. He's an impressive person."
A Nassib reunion seemed like a perfect emergency marriage after outside linebacker Cam Gill blew out his foot on Saturday night.
Today, the Bowles love kept flowing.
"Carl's tough in the run," Bowles said. " When he played, when he was here with us, he's a very good pass-rusher on the outside and he can also play inside in some nickel situations. He has a lot of versatility, he brings a lot of energy, brings a lot of toughness and he understands the system. He was comfortable in it. We look forward to him coming here."
Joe's not sure what Nassib has left in the tank after two weak seasons with the Raiders, but what a find he would be if he could recapture his 2018 and 2019 production while with Tampa Bay.