Chris Simms: Bucs Have NFL's Second-Best Roster
August 29th, 2022
Even if you don't factor in Tom Brady, the Bucs have ballers up and down the roster.
That's the word from former Bucs quarterback and current NBC talking head Chris Simms, by way of his podcast, "Unbuttoned." In putting together his list of teams with the best rosters, not counting quarterbacks, Simms is a huge believer in his old team.
Simms also advises Bucs fans to have faith and trust in Bucs AC/DC-loving general manager Jason Licht to repair the interior of the Tampa Bay offensive line.
Simms loves the roster except for the aforementioned guards and center in the wake of Ryan Jensen's injury. But Simms noted the man who built the best offensive line in the NFL from a trainwreck in only five years is still picking the players.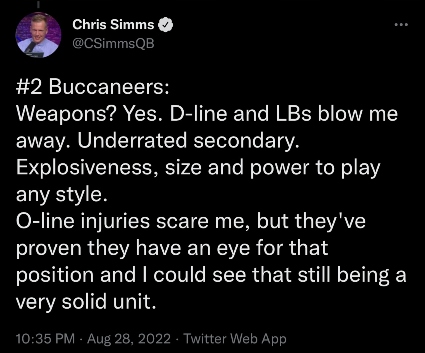 Simms is onto something here. Who has a better wide receiver corps? Who has a better defensive line?
What 34 defense has better inside linebackers?
Who has a better quarterback (remember, last year Tom Brady led the league in passing yards and touchdowns)?
That's a helluva foundation.
And yeah, Joe trusts Licht and the Bucs' offensive line coaches to repair the interior of the offensive line. They have the street cred.