Bucs Training Camp Notes (Practice No. 8)
August 5th, 2022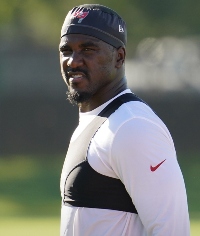 It wasn't a boring practice at Bucs training camp this morning. Chris Godwin returned, Mike Evans had his usual summer hamstring tweak (we think) and Tom Brady was not around. He's been missing from One Buc Palace since Wednesday's release of the NFL tampering investigation findings, of which Brady was a key figure.
Joe truly fears a late-Friday afternoon news dump.
So let's get to the notes, shall we?
* Blaine Gabbert channels Michael Vick and runs a keeper up the middle. His next two passes are broken up, followed by a completed pass to Cam Brate on the left side.
* Playoff Lenny runs left in the three-hole (between left tackle and guard) taking advantage of a huge hole.
* Playoff Lenny has a play blown up as defenders got a lot of penetration up the middle and flushed him to the right. Loss of a couple.
* Rookie running back Rachaad White runs up the middle, hops over a defender just behind the line and has a nice gain. Seems like there is slightly more hitting from the defenders this morning.
* Joe isn't sure if Kyle Trask botched the snap or if he had a bad snap. But he got drilled by Rakeem Nuñez-Roches ("Nacho"). Trask didn't go down but Nacho's hit basically blew up the play.
* Trask throws to Russell Gage on the left side and he skies high to haul in the pass.
* After that play, when the offense was getting back to the huddle, Joe heard someone holler at the offense "Let's go" or "Let's get it together" or something along those lines. Leftwich then had the entire offense — all players — gather in a large huddle and after about 30 seconds, the offensive-11 on the practice field then huddled up to call a play.
* Gabbert splits a pair of defenders to connect with Jaelon Darden. This was one of Gabbert's better practices mainly because Joe didn't notice any trademark Gabbert throws.
* Camp meat running back Kenjon Barner with a big gain running just where Playoff Lenny ran earlier, in the three-hole.
* Rookie tight end Cade Otton with a huge gain over the middle from Ryan Griffin. You can tell Otton is starting to get the hang of things after missing all offseason workouts and practices while he rehabbed a surgically-repaired ankle. Each day get he gets more snaps, more targets and seems to be improving as well. Starting to look like a real weapon.
* Julio alert: Like Otton, who seems to be grasping the offense more and, thus, getting more snaps, so too is Julio Jones. Gabbert had to step up in the pocket due to the pass rush and he threads the needle to Julio in double coverage.
* Gabbert escapes pressure and begins to run, then immediately locks up the brakes and stops dead in his tracks when he saw Devin White headed his way. Looked like a head-on-collision was about to happen. Smart move, Gabbert.
* It appeared Tyler Johnson dropped a Gabbert pass along the right sideline. Joe types "appears" because Carlton Davis dove for the ball and Joe was on the opposite side of the field. Couldn't tell if Davis got a hand on the ball (Davis sort of screened Joe's view) or tipped it or distracted Johnson but the result was all the same: An incompletion.
* Defense seems to more lively today, bouncing around and generally having fun.
* Good to see: Ryan Griffin throws to White in the left flat and he is immediately wrapped up by Bucs sack king Shaq Barrett. Now Barrett didn't hit White (he could have) and instead wrapped him up. Todd Bowles doesn't want defenders beating up their teammates and Joe understands this, but can't they wrap guys up without blowing them up? Shaq wrapping up White with blasting him is what Joe wants to see from all the defenders.
* Gabbert again throws to the left flat for White and this time Zyon McCollum whiffs on White.
* Otton lines up on the left side tight to the tackle and catches a screen pass from Griffin for a nice gain.
* Gabbert throws short and low for Johnson to the right who races in, dives for the ball and gets it.
* Gabbert again with a short and low pass, this time to the left and Julio cannot quite get it as the ball goes off his hands. Good effort though.
* Gabbert connects with Mike Evans over the middle.
Red zone drills
* Gabbert hits Johnson to the right at the goal line and in traffic (tipped ball?) Johnson bobbles the ball but recovers for a touchdown.
* Finally some hitting: Trask throws to Jerreth Sterns in the back of the end zone toward the right corner. He was covered by McCollum and Keanu Neal was nearby. And Neal reminded Sterns he once was a Pro Bowler by clobbering Sterns.
* Trask throws to rookie tight end Ko Kieft in the right flat near the goal line. He was wide-arse open but K.J. Britt got a mitt on the ball. Kieft made a nice attempt coming back for the tipped ball and selling out for it but the ball hit the ground in front of Kieft.
* Trask throws over the middle for the back of the end zone and no one is home. Trask has had a really rough past couple of days. Forget second string, Joe isn't sure Trask is third string based on his past two practices. Let's just say Trask has not improved since training camp has opened. Instead, he's headed in the opposite direction.
* Griffin tries for Sterns in about the same spot as Trask did earlier and Griffin is picked by Don Gardner.
7-on-7 drills
* Three straight completions for Gabbert: twice to Playoff Lenny on the right side and then to Russell Gage on the right sideline.
* Trask connects with Darden on the right sideline and then Trask targets Gage on the left sideline but the pass was dropped. To be fair to Trask, the camp meat he is throwing to have not helped him at all the past couple of practices (no, Gage is not camp meat). Perhaps Gage heard footsteps as there were three defenders nearby?
* Trask throws to White over the middle but the ball is off his hands and bounces forward. Lucky it is not picked. This is not on Trask.
* Trask to Cam Brate on the left side.
* Gabbert hits Mike Evans deep down the right sideline and Evans gets both feet down. But what about Evans' hips?
* Trask complete to J.J. Howland along the right sideline and follows that with a hookup with Barner, right side.
* Trask tries to get the ball to Darden to the left side and it appears Ross Cockrell tips it. The ball bounces to Jamel Dean for the pick as Cockrell excitedly hollers, "Pick, pick!" And Cockrell points toward the end zone to rally his teammates for a return.
* Trask again tries for Darden on the left side and Lavonte David sells out by diving for the pass and tips it away.
* Gabbert with a beautiful pass to the right sideline for Evans deep. The ball drops right in the basket and Evans scores a touchdown and spikes the ball. Joe found out Evans spiked the ball out of frustration. Alas, it would be Evans' final play of practice as he tweaked a hamstring (per Todd Bowles) on the play and Evans walks off the field limping.
* A fan nearby groans as if he's about to puke, "Good thing we got Julio."
* Gabbert to Playoff Lenny along the right sideline for about 15 yards.
11-on-11
* Gabbert likely would have had a coverage sack as he bounces in the pocket. He finds Otton open deep down the right sideline for a huge gain. Not only is this Gabbert's best practice, but so too is Otton having his best practice of camp. Unless Gabbert gets hurt or Trask really blows coaches' minds the rest of the way, Gabbert is your second-string quarterback folks.
* Gabbert throws to Playoff Lenny on a screen play to the left and Playoff Lenny has a wall of defenders leading a convoy for a big gain.
* It's not all bad for Trask this morning. He rolls right and keeps the ball for a big gain.
* Loud and proud! Playoff Lenny is stuffed at the line and Nacho hollers and stomps his feet while goose-stepping in satisfaction. Again, the defense is playing with emotion this morning.
* Trask throws low to Johnson on the left side and Johnson comes back for the ball and slides and hauls it in. Receivers are hustling today too. Bowles must have had some choice words for his squad prior to practice.
* Despite this, Joe hears a fan moan out loud, "Trask has had a terrible day."
* Cockrell breaks up a Griffin pass for Sterns who hits the deck over the middle. Cockrell stands over Sterns and screams, "Get that sh!t outta here!" Sure looks cool and gets Joe fired up and the crowd of some 500 fans loves it (Joe thought practice was closed today?) but that stunt likely gets flagged in a game. Passion is great and it is encouraging to see but you have to have some self-control, man.
* Gabbert to Gage over the middle. He bobbles the pass but is able to haul it in.
* Gabbert to Scotty Miller on a deep crossing pattern from the right. The crowd yells its approval.
* Gabbert to Julio on a short pass.
* Sterns dives for a Gabbert pass down the right seam for about a 35-yard gain. Defenders fail to touch Sterns to kill the play and Sterns perhaps doesn't realize right away that NFL rules allow him to get up and run. But Sterns does, after a pause, get up and he does run for a touchdown. Fun play. This is also Stern's best practice of camp. A practice in the air-conditioned Glazer Shed followed by a day off really seems to have energized a lot of players.
* Trask to Otton on the left sideline as Otton finished a down-and-out pattern. If Cam Gill wanted to he could have tattooed Otton.
* Trask to the immortal Cyril Grayson on the right side.
* Griffin throws deep down the right sideline for Deven Thompkins and the pass is just a hair too long.
Two-minute drill
* Brate catches a pass from Gabbert on the left side.
* Joe Tryon-Shoyinka races in from the right side and "sacks" Gabbert.
* Trask connects with Thompkins down the right sideline for about 20 yards. Trask had a rotten practice (again) but he's finishing nicely.
* Joe is not sure what to make of this but Bucs offensive coordinator Byron Leftwich was in the huddle with Trask and following him to the line of scrimmage. Leftwich said something to Trask as he shifts from under center into a shotgun.