Bucs Raving Internally About Tom Brady Arm Strength
August 4th, 2022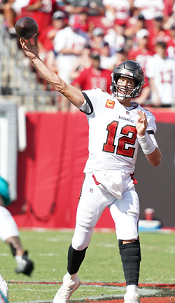 Tampa Bay's 45-year-old quarterback is on the rise.
At least he is when it comes to arm strength. NBC Sports guru Peter King, the longtime NFL super insider, made his annual trip to One Buc Palace yesterday and got all kinds of access. Sitdown with Todd Bowles, a standup with Devin White, suck-up time with general manager Jason Licht, etc.
King released some of his report at NBCSports.com, and it includes him noting that quarterbacks coach Clyde Christensen told general manager Licht that "Brady's arm is better than I've ever seen it."
Now that's quite a statement from the guy tasked with scouring the film of Brady, Drew Brees and Phillip Rivers early in 2020 when the Bucs were hunting a quarterback and diving deep on Brady going back years. Then Christensen took over as Brady's position coach and the two are very close.
Brady certainly has had ups and downs in training camp, but overall he looks strong, and Joe can tell that when Brady reaches for his fastball it's definitely there.
Could he really be getting more powerful at 45? Of course, it's Tom Brady!