Buccaneers' Practice Notes & Nuggets (Tennessee Wednesday Edition)
August 17th, 2022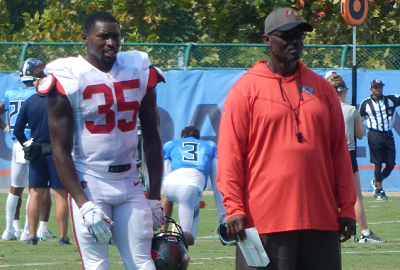 It's Joe's not-so world famous Bucs training camp notes and nuggets, fresh from the Tennessee Titans' practice facility this afternoon.
Joe is changing things up today. The notes are about defense, defense and more defense, and a little offense, too.
*Running back Giovani Bernard is in street clothes, as are Mike Evans and Chris Godwin. Bernard's unknown injury happened Saturday. Evans has a hamstring and it looks like Godwin just got a day off. Working on the sidelines and training hard is receiver Russell Gage, seen being pushed with a little less intensity is receiver Breshad Perriman.
* Bucco Bruce Arians made the trip but his covered golf cart did not. Joe chats with the former head coach, who clearly has his head dialed into the intricacies of the club.
*DROP! Jaelon Darden in 1-on-1 drills with Titans rookie cornerback Roger McCreary in coverage.
*What a fun battle in 1-on-1s with Titans fifth-round pick receiver Kyle Phillips and Antoine Winfield, Jr. A win for each.
*Nice pass breakup by rookie cornerback Zyon McCollum. Soon after, veteran receiver Robert Woods is too much for McCollum to handle.
*Cornerback Dee Delaney left in the dust by a double move from Titans receiver Mason Kinsey.
*Corner Jamel Dean comes up strong against receiver Terry Goodwin.
*Camp meat cornerback Kyler McMichael flagged for pass interference.
*Man, what fun it was to see Devin White facing Derrick Henry in a pass-blocking/blitz-pickup drill.
---
*An 11-on-11 session begins and there's not really tackling to the ground yet but it's physical otherwise. After a Titans run left for a 3 or 4 yards, new Bucs defensive tackle Akiem Hicks bats down a Ryan Tannehill pass.
*Deep shot touchdown from Tannehill to rookie receiver Treylon Burks. It looked to Joe like it was Sean Murphy-Bunting in coverage, but it may have been Keanu Neal. Most Titans reporters were leaning Neal. Regardless, it wasn't a good moment for the defense, and Neal left injured soon after (see home page).
*Another short run is followed by a Tannehill fake and rollout that seemed to catch edge rusher Carl Nassib off guard at left end — 11 yard gain.
*Camp meat linebacker Olakunle Fatukasi seems to be the responsible party after a Titans big run up the left gut.
*Titans wide receiver Racey McMath beats McCollum deep to the right side. McCollum holds his head in disbelief.
*Hicks breaks through and would have hammered Tannehill for a sack but lets up per practice rules. The pass rush continued on the next play with Elijah Ponder and Devin White getting through on a blitz; someone would have gotten the sack.
*And one more! In comes DL Benning Potoa'e for what would have been a sack, but play continued and backup safety Chris Cooper ended up with a pick of a Titans backup QB.
*Carl Nassib seen talking over and over again to Joe Tryon-Shoyinka on the sidelines.
*Titans Coach Mike Vrabel is one very involved dude, screaming at his guys during special teams/punt return work.
---
*And here come the big boys: Titans defensive linemen versus Bucs offensive linemen in pass rushing/pass blocking drills: First up is Tristan Wirfs and he is strong and dominant in his two reps.
*Then comes center Robert Hainsey. Rough pair against Kevin Strong.
*Left guard Aaron Stinnie also struggled with Pro Bowler Jeffery Simmons, who shoved Stinnie after their first go which may have been a win for Stinnie.
*Donovan Smith looked as dominant as Tristan Wirfs.
*Bucs tackle Brandon Walton is working at multiple positions and punches the helmet off Naquan Jones. Hands to the face? LOL. Joe think Walton looks much better at tackle than guard.
*Simmons is hot — at Bucs left guard Nick Leverett. And Simmons wasn't even facing him. He didn't like Leverett's approach. "What the F are you doing?" he screamed. Someone yelled, "Get back to the practice squad" as a little dustup ensued and a crowd gathered.
*Bucs camp-meat tackle Dylan Cook has slow hand and coaches are all over him. They're also on guard Luke Goedeke about his feet and set in pass protections.
*Bucs guard Shaq Mason gets bull rushed badly by Titans DL DeMarcus Walker.
*Hainsey continues to struggle.
*Simmons ripped a quick move inside Stinnie in their second go-round. Not even Kyler Murray would have escaped that would-be sack.
*Again, Smith and Wirfs dominate.
---
*11-on-11 is back and the Bucs allow an eight-yard run to Dontrell Hilliard.
*The next ball carrier is met in a crushing hurry by Will Gholston.
*The Titans complete a short throw followed by an offsides call on Tampa Bay. Hicks jumped first, recovered and then others jumped.
*Tannehill converts a quick out for 5 yards before he's victimized by a drop.
*Fatukasi misses a tackle on a run and the Titans get 10 yards.
*Anthony Nelson with a sack on Malik Willis, pulling up on the rush under practice rules. And then rookie Andre Anthony gets one off the right edge on Tannehill. Back-to-back sacks.
*PICK!! Devin White sitting in zone coverage. Not much pressure on Tannehill. Just a bad mistake.
*Vita Vea hammers a running back in the hole. A Titans right tackle needs help off the field. Very physical play on both sides.
*Bucs' zone coverage looks off on an easy Titans completion. Jamel Dean and K.J. Britt talking after the play.
*White and Lavonte David playing with the second team now. After playing with the first. Camp-meat cornerback Kyler McMichael loses and Titans WR Kyle Phillips gets a big gain on an out route.
---
*Ryan Succop is perfect through his dedicated special teams session — seven or eight kicks, with the final one from 50 yards.
*Julio Jones seen working with Kyle Trask and Blaine Gabbert during special teams/punt coverage work. Todd Bowles says after practice that Julio will not play in Saturday's preseason game.
---
*11-on-11 is back and it's a hurry-up version. The Titans get back-to-back, 6-yard completions, the second goes to tight end Austin Hooper with Devin White covering.
*Then they huddle and throw complete for six yards with Mike Edwards in coverage.
*Next is a dumpoff to Dontrell Hilliard while Devin White chases him down before the left sideline for a 2-yard gain.
*No catch! Pass defense on the sideline by Logan Ryan on Robert Woods.
*4th-and-short play is complete on Devin White. After a quick out for 2 yards, the Titans' run is stuffed and they hustle up to complete would looks like a 52 yard field goal.
*Here come the Bucs in 11-on-11 in hurry-up. Blaine Gabbert is incomplete to the right side before an eight-yard completion to Cameron Brate over the middle. Aaron Stinnie holds up in pass protection, 1-on-1 against Simmons. Well done!
*First down Bucs with a short throw to Tyler Johnson over the middle. Then comes another completion to Brate in the left flat.
*BIG GAIN! Julio Jones breaks a tackle after roughly an eight-yard pass to the left sideline. Julio turns it into 20.
*Playoff Lenny with a run for a yard, and the Bucs spike the ball.
*Ryan Succop misses wide left from 40 yards.
*Titans ball and, man, Todd Bowles is visibly frustrated with his second-team defense (see home page). The Titans get two first downs.
*Titans rookie QB Malik Willis has some kind of rifle in his right arm. Damn. He fires complete over the middle with Bucs camp-meat cornerback Don Gardner in coverage. The next play is a nice pass breakup by Dee Delaney.
---
*Now it's Kyle Trask's turn at the hurry-up and he looks impressive, brimming with confidence.
*Trask fires to receiver Jerreth Sterns for eight yards to the right.
*Then it's another hurry-up strike to Sterns for four yards. First down!
*Trask again with zip to Kaylon Geiger for nine yards.
*After a throwaway from Trask, he throws over the middle through the hands of running back Rachaad White but Devon Thompkins swoops in to catch the free ball.
*Trask with a another throw away and it's 4th and 1. Lined up wide left is White and he's uncovered as the Titans bench goes nuts screaming at a defensive back to get in position. Trask's throw to White at the sidelines (only 8 seconds on the clock at the Titans' 40 yard line) and way off the mark.
*Here come the Titans again with their first team offense in hurry-up for the final time. He hits Robert Woods, who was nestled in zone coverage for a gain of about 25 yards — after Tannehill was flushed left from a left side blitz and threw sidearm. Nice play.
*Rookie Titans TE Chik Okonkwo catches an eight-yard pass with Mike Edwards in coverage. Edwards looks slow today.
*Titans set up for a 53-yard field goal. It's good!
---
*Now it's the Bucs' first-team offense back in hurry-up. Blaine Gabbert throws slightly behind Darden but still through his hands on a crossing route.
*Drop or pass interference? Darden misses on squeezing another Gabbert throw over the middle. Good defense by Titans safety Kristian Fulton who flies in for the breakup.
*Darden redeems himself. Great pass protection for Gabbert who finds Darden in zone coverage for 15 yards.
*Gabbert rushes to spike the ball and Succop is good — from 52 yards!
---
*Last call for the second-teamers in hurry-up. Illegal contact call on cornerback Jamel Dean. (See home page story). Dee Delaney drops a sure interception.
*Kyle Trask breaks out his deep ball and hits Kaylon Geiger down the seam for over 20 yards. The Bucs rush in for the spike as the clock ticks down. Succop is good from 50 yards to end practice.
---
*After practice, Succop reveals that he got permission from Todd Bowles to stay at home with his wife and kids during the Bucs' trip to Tennessee. Succop lives in the area in the offseason. Cool move from the Bucs to let Succop do his thing after practice and meetings. Succop's eldest son skipped the first day of first grade to attend practice today — and catch passes from dad on the field afterwards.