"The Young Man Is Hungry To Get Better"
July 8th, 2022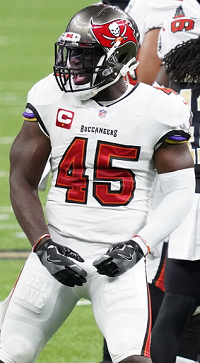 Those who listen here to Tampa Bay legend Derrick Brooks and Sage JoeBucsFan.com columnist Ira Kaufman on TAMPA TWO during football season know Brooks privately counsels Bucs linebacker Devin White.
White is a wise 24-year-old seeking Brooks' guidance.
That doesn't mean Brooks spills his conversations with White, but sometimes he offers a glimpse into the Pro Bowler inside linebacker's game and what he's seeking to improve.
Speaking on WDAE radio yesterday, Brooks shared that White is salivating for the 2022 season — in a very productive way.
"I can say this: the young man is hungry to get better," Brooks said. "When I mean get better, I mean asking the right questions about being great and what are the little things he needs to do to be great.

"Lavonte [David], too. Both, just like, 'Hey, how do we improve our relationship that the Bucs get the best out of both of us and we're playing at a high level together?' I think that's what you're going to see out of both these young men this year in supporting each other and making bigger plays."
Brooks went on to note how staying healthy will be critical to the dynamic duo's goals, as well as the team's.
"If the Bucs defense is going to rebound to its Super Bowl form or 2020, both those guys need to be on the field a lot," Brooks said.
Joe thinks it's very cool that Brooks mentioned David, who is entering his 11th NFL season. Joe also will read deep between the lines of Brooks' comments and conclude David's long healing process is going well.