Smarter = Faster For Devin White
July 31st, 2022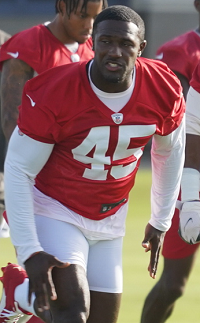 Do not tell Buccaneers savior linebacker Devin White he did a good job reading keys and reacting after the snap.
White won't be happy with that and he made it clear he does not want to be a read-and-react linebacker.
No, White wants to be known for "anticipation." He emphasized yesterday that he plays "10 times faster" when he's anticipating, and with his skill set already being better than other linebackers, it's anticipation that will make him the best in the game.
White called that "the next level," and improving mentally is what he's focused on with his new position coach, Larry Foote, who doubles as the Bucs' co-defensive coordinator.
Joe knows White is counseled/mentored by Bucs legend Derrick Brooks. It wouldn't surprise Joe at all if Brooks was very pointed with White that the mental side of the game is what will take him to a new stratosphere.
Foote is all about repetition to the extreme, White added, noting that he has come to appreciate that style and how it builds stronger instincts.