Kyle Rudolph Understands Saints Hate
July 23rd, 2022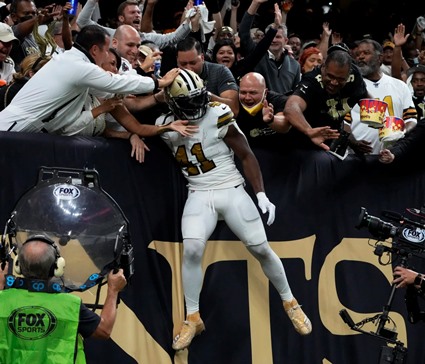 New Bucs tight end Kyle Rudolph may be a little washed out as a player, but his social media game appears in great shape.
Signed earlier this week, the former Pro Bowl tight end will be at opening day of training camp on Wednesday — four more days! — to meet all his new teammates. But he already has something in common with them; he knows how satisfying beating the Saints in a big game can be.
Rudolph caught the game-winning touchdown in overtime against New Orleans on their home turf in the 2019 season playoffs. Saints fans will tell you Rudolph pushed off and it was a garbage no-call that cost the Saints dearly against a lesser Vikings team.
Did Rudolph push off and deserve a pass inteference call? It sure looked like he did.
Today, Rudolph took to Twitter to apparently remind Saints fans and tell them he'll see them soon.
It's all in the Tweet below. And yeah, Rudolph plans to wear No. 8.
Something @buccaneers and @vikings fans can all enjoy on this Saturday!! 😤 pic.twitter.com/5un6dHaQj8

— Kyle Rudolph (@KyleRudolph) July 23, 2022