"It Can Get Lenny Into Trouble A Lot"
July 12th, 2022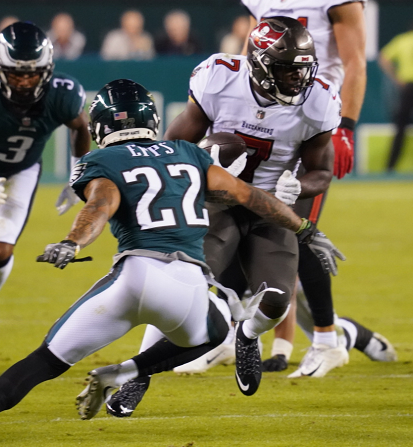 Interesting take here from a Bucs coach about a guy general manager Jason Licht just handed a giant sack of Team Glazer loot.
Freelancing happens on the football field. Jason Pierre-Paul was known for it, Devin White has plenty of that in him, and Joe was even told Gerald McCoy liked to dabble. But it happens on offense, too, and it's a good way to get Tom Brady furious — unless you're good at it.
Bucs running backs coach Todd McNair says Leonard Fournette is a guy who goes off script. McNair told local media that it often gets Lombardi Lenny into trouble but he succeeds enough with it to balance out the negative.
"Lenny has a knack. He's got a feel for, you know, kind of getting open sometimes, and I'm saying sometimes doing the ad-libbing. Sometimes it gets him in trouble. He does the wrong thing at the wrong time," McNair said.

"… … [Brady and Lenny] got a little street ball, little feel for each other, and it can get Lenny into trouble a lot because he ends up in the wrong place a lot, at the wrong times. So it's a gift and a curse, a plus and a minus, but him and Tom are comfortable together. Tom has always thrown a lot of balls to his running backs, New England and all. You know him and Lenny have that rapport."
That streetball feel for the game is often unteachable, McNair said, and instinctive feel is something offensive coordinator Byron Leftwich craves in a running back. McNair added that Leftwich often says a running back with a strong feel in the passing game "can play ball with Tom."
It was an intriguging take from McNair, and a window into why Ronald Jones, a guy without much feel, is now playing for the Chiefs.
This is Fournette's third season with Brady after arriving following training camp in 2020. Joe suspects the Brady-Lenny feel should improve and lead to more efficiency and productivity in the passing game.