"He's A Tight End's Tight End"
July 21st, 2022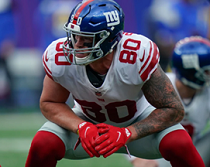 Joe is not hearing any moaning about general manager Jason Licht's fresh signing of 12th-year veteran tight end Kyle Rudolph.
In fact, Joe's heard the opposite — a lot of love for the move.
Former Pro Bowl receiver Ed McCaffrey, a three-time Super Bowl winner with the Broncos and Giants, is a big fan of the Rudolph signing.
Speaking on SiriusXM NFL Radio this morning, McCaffrey noted that the rich get richer and the Bucs are the type of team that is very attractive to free agents of Rudolph's stature.
"When I think of tight ends, right, he's a tight end's tight end. You know what I mean? Like a 6-6, 260-pound guy," McCaffrey said. "This is a dude. He can block in the run game; he can catch.

"He can give them a dimension that Rob Gronkowki gave them in terms of being a blocker in the run game and in protections, and is a really reliable target at tight end. Big body, strong hands. He makes them a little bit better and he fills a need."
McCaffrey went on to rave about how Rudolph is a "relevant blocker" and how the Bucs just recovered legitmate two-tight-end sets with the Rudolph signing, as he can line up with established TE Cameron Brate.
Joe won't pretend Rudolph makes up for the loss of Rob Gronkowski, but he should be a hell of a fit if he's not Richard Sherman washed out.
10 Year Anniversary Party: Saturday, July 30th. pic.twitter.com/aX4TStqjfQ

— Big Storm Brewing Co (@BigStormBrewing) July 21, 2022