Five Homeless Cogs
July 24th, 2022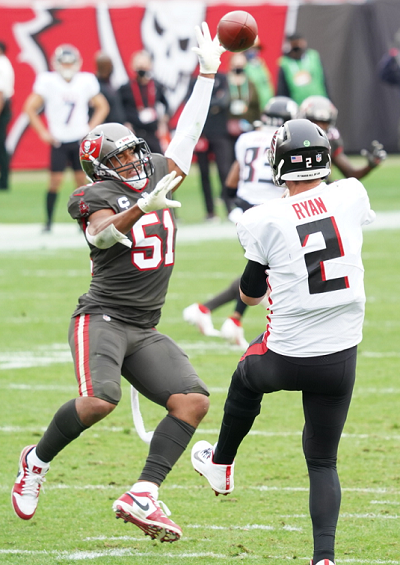 Five key pieces of last season's Bucs defense are without a team for 2022?
There are many ways to interpret that, but Joe's going to say it's a tell that the Bucs have quite a bit of room to improve defensively.
To the best of Joe's knowledge, all five want to be employed but aren't.
Linebacker Kevin Minter is one of the homeless Bucs. He played in 16 games last season and made five starts at linebacker. Not only was he busy on special teams, but he logged plenty of time on defense. His position coach, Mike Caldwell, got the Jacksonville defensive coordinator gig but Minter didn't follow him there.
Then there's Jason Pierre-Paul and Ndamukong Suh. Joe won't rehash their statuses, but however you spin it, neither has a team and training camps are either open or hours away.
Then there's the bottle of cologne, cornerback Pierre Desir. He played more than 300 snaps at corner, including two starts, and another 150-plus on special teams. Joe's not surprised he has no team, but it's telling when you add him to the other three homeless ex-Bucs.
And last is defensive tackle Steve McClendon.
All five are 31 or older, and McClendon was the oldest defensive player in the NFL last season with Suh right behind him.
The Bucs got a lot younger on defense. Better? Joe thinks so, but that will be answered on the field.
Flash poll posted at 3:32 p.m.