Donovan Smith Is Ready For His Touchdown Call
July 30th, 2022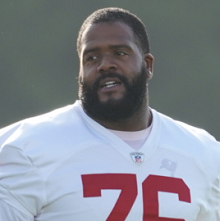 Day 4 of training camp (still nobody in pads) was a veteran day off for Donovan Smith.
So Joe thought it was the right time to talk to the Bucs' ironman left tackle about his future as a weapon.
The man has played 117 games in a Bucs uniform and hasn't had a ball thrown his way like so many other left tackles have.
Smith says he isn't counting on the streak ending, but he "absolutely" will be ready. "I mean, whenever the time comes, I'm definitely going to conquer it and I'll make it look good," Smith said.
The eight-year veteran doesn't work on catching at home to prepare for his moment in the spotlight, but he said his hands while "hangin' out with the boys" are strong and Tom Brady can count on him.