DeSean Jackson Explains Why He Was Unhappy In Tampa Before He Ever Took A Snap
July 3rd, 2022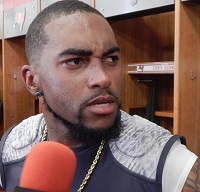 Joe sometimes wonders what would have happened if the Bucs didn't let defensive coordinator Mike Smith and receiver DeSean Jackson return to One Buc Palace after the 2017 season.
Neither was thriving and both seemed somewhat disinterested.
It's a scary thought now because dumping those guys before the 2018 season might have led to Bucco Bruce Arians not being hired and Tom Brady never landing in Tampa to bless long-suffering Bucs fans.
Joe is thinking of this while catching up on episodes of the I Am Athlete podcast, which is always an enlightening listen. Jackson was a recent guest and talked about how he is a more dangerous deep threat than Randy Moss ever was. (Got it, DeSean.)
Following that take, Jackson gave his view on when things went sour for him in Tampa after he signed a fat deal in March of 2017.
"I butted heads with Dirk Koetter. Me and Dirk Koetter, we for some reason we didn't, and then the receiver coach Todd Monken at the time, when I got paid, he was like, 'You gotta earn your money,"' Jackson began.

"I'm like, 'That's the point of you all paying me. I already earned it. Of course I'm going to come to work and do my thing.' But the first thing he said in the media when I signed was, 'Yeah, he's going to have to come in and earn his money.' The receiver coach!

"So they had like an old school college mentality and we butted heads. So my third year, I'm like, 'Y'all might as well just trade me and get me up outta here.' I'm low-key mad because Tom came in the next year and won a Super Bowl."
In March of 2019, with Bucco Bruce Arians as head coach, the Bucs traded Jackson and a 2020 seventh-round pick to the Eagles for a 2019 sixth-round compensatory selection, which was used to draft Scotty Miller.
So for those keeping score, Jackson didn't want to play for Arians, an offensive guru known for throwing deep.
Joe had to laugh when Jackson said he already earned his Bucs salary before taking a snap. Joe understands what Jackson was saying, but that line really illustrated what a me-first guy he is compared to Mike Evans or Chris Godwin.
Consider Jackson a valuable lesson learned by general manager Jason Licht, who has matured into an elite GM.
Beer run!
A couple of icons from @BigStormBrewing pic.twitter.com/9b4f6BoSXC

— JoeBucsFan (@JoeBucsFan) July 3, 2022