Compilation Of Objective NFL Data Puts Jamel Dean Among Top 10
July 17th, 2022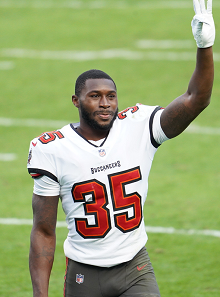 Regular readers here know Joe loves the free agent addition of safety/nickel Logan Ryan because he represents competition among the cornerbacks for the first time in years.
No more gift-wrapped jobs at the position.
Carlton Davis is the Bucs' No. 1 corner and that's why he's earning eight figures per year, but who are No. 2 and No. 3? Official NFL NextGen stats, generated by technology in game equipment, say Dean is the Bucs' best cover corner and the ninth-best cover man in the entire NFL.
Nick Shook compiled the rankings using all kinds of data that might give you ugly flashbacks to high school algebra.
… … … … Quarterbacks completed just 48.5 percent of passes in which Dean was the nearest defender, producing a coverage success rate (the percentage of targets that result in a successful play for the defense) rivaling that of A.J. Terrell, who, as you will see, is ranked very high on this list. And Dean allowed the ninth-lowest passer rating (60.5) in the league. Entering a contract year, Dean has certainly built positive momentum that could result in quite a pay day.
Dean can cover. Every Bucs fan paying attention knows that, and he's long and fast. What he's not is good in zone coverage, and he's certainly not nickel material.
What Dean will be is extremely wealthy next season if he can stay healthy in 2022 and continue to cover. There's no shortage of cash offers for effective young cornerbacks entering free agency.
On the NextGen list of top-10 cover corners, Davis was not listed but was one of three corners named that just missed the cut.
Enjoy Saturday's Ira Kaufman Podcast!