Todd Bowles Opens Up On Devin White's Highs And Lows
June 14th, 2022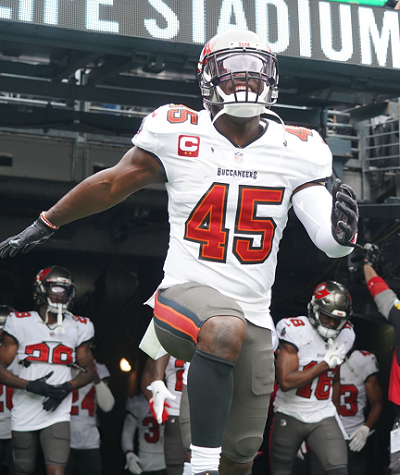 You want candid talk on Buccaneers savior linebacker Devin White and the state of his game?
Joe presents Bucs head coach/defensive playcaller Todd Bowles laying it out in detail.
In Part I of Joe's sitdown last week with Bowles for the Ira Kaufman Podcast, Sage of Tampa Bay Sports Ira asked Bowles to expalin to fans where White's game is two seasons removed from his stunning finish in the 2020 season.
"I think he had a good year [in 2021]. I don't think he had the Super Bowl year, but he still had a very good year. I think we had a lot of injuries that ravaged, that we asked him to be more of a vocal leader, as far as pointing and lining people up more than we did making plays to hide up some of the weaknesses that we had," Bowles began. "He still had a very good year.

"In the second year, you become better mentally. I think there was a cross between his mental and his physical play. And then he started hearing the noise trying to make a play; that's when he would make a mistake. I think he's aged and matured a year. He's come back with a great mental approach to the ballgame. He's gotten a lot better at almost everything that was almost a minus for him last year.

"But he is our tone-setter. He's one of those guys that you have to let be a football player. I'm not saying he's Ray Lewis or Mike Singletary, but he's one of those guys that's very confident in his ability. And he's very good at what he does and you have to let him play. And I think we're getting back to that more – letting him play but understanding where he has to be at certain times.

"So I think his best years are ahead of him. I think it's impossible to ask an insider [linebackers] to have nine sacks every year. That's not realistic. He got through [in 2020] and had some success at that, and we had a lot of guys up front that helped out with that. But if he can get four or five sacks and get about three of four interceptions, that's a great year to me, as well as doing things helping us win, making some 3rd-and-short stops and leading the defense, and being where he needs to be mentally.

"We've tweaked some things for him that fit his game a lot better. You know, we have to be smarter as coaches getting him in better positions, too. But like you said, he's the guy that we turn to. And he's a natural born leader. It's not for show. I mean, he does it in practice every day. So on Sunday, it's just a microcosm of what we see every day during the week."
Joe's biggest takeaway from this was Bowles noting how strong and mentally focused White came to the Bucs' spring practice. That's a huge sign, and Joe highly doubts Bowles would exaggerate.
Second, Joe was intrigued by Bowles saying he'd be happy having White be a four-sack guy, considering how often White blitzes.
Great stuff from Bowles, and Joe will have plenty more from the head coach in the next Ira Kaufman Podcast episode.