"The Pace Was Unreal"
June 7th, 2022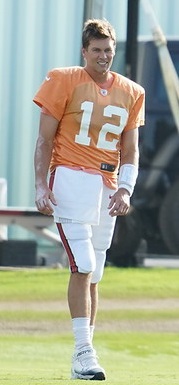 Tom Brady is not messing around.
Yes, Brady has been busy shooting a film with ancient actresses, pitching Brady shirts and underwear and preparing to a play a charity golf match in which participants  agreed to pick up short putts so they wouldn't embarrass themselves. Plus Brady, of course, allegedly is all-in on being a dad with kids in multiple states, and he's a wellness entrepreneur, and a pitchman for other companies while he squeezes in negotiating a $300 million+ contract with a TV network.
And don't forget, Brady trains year-round so he can get his 45-year-old body ready for a 20-game football season.
Superman was in the house today at One Buc Palace leading the team in manadatory minicamp. It was Brady's first known appearance on the field with teammates since he showed up for a conditioning day just after the NFL Draft.
Per center Ryan Jensen, Brady hit the ground flying and demanding excellence.
"The pace was unreal. It was a fast pace today," Jensen said, emphazing the speed and ramped up competitiveness of practice.
Jensen was careful not to throw other quarterbacks under the bus, noting specifically that Blaine Gabbert runs a good practice, too. But Jensen did not hide his appreciation for what happened this morning on the field. "Tom, he's Tom," Jensen said.