Rob Gronkowski Still Dangerous As NFL Old Man
June 21st, 2022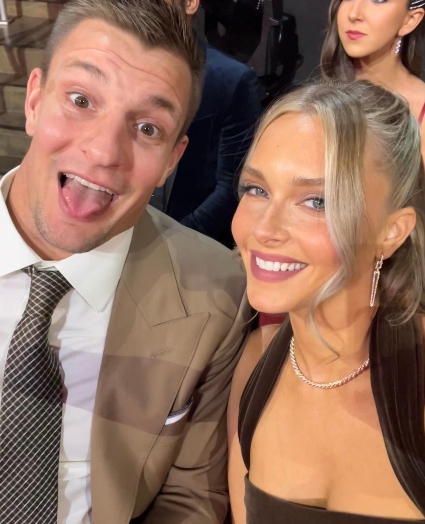 If you are like Joe, you are daily monitoring Camile Kostek's Instagram account like the Zapruder film (not for obvious reasons) hoping the swimsuit model, TV star and girlfriend of Bucs foot-rubbing tight end Rob Gronkowski somehow drops a hint Gronk returns this season.
The Bucs need the old man by NFL tight end standards. And Gronk, 33, has often said his body is beaten down by 165 games of punishment dished out by NFL defenders. Joe gets that.
Still, Gronk is productive. Big time. Per Jeff Kerr of CBS Sports, only four tight ends last year had more YAC (yards after caatch). And this is after Gronk missed five games with broken ribs and a punctured lung.
For a guy who allegedly has seen his better days, that's fantastic.
Perhaps one way to lure Gronk back to the Bucs is if Todd Bowles promises to keep Gronk on a pitch count? That could help preserve his body. Not sure how much that would screw up the Bucs' offense but damn, having Gronk some of the time is a whole lot better than having Gronk none of the time.
You almost wonder if Gronk doesn't come back, would Bucs AC/DC-loving general manager Jason Licht swing a trade for a tight end or sign a veteran free agent. If Gronk does retire, you have Cam Brate (not much of a blocker), veteran Cody McElroy, who has one catch in three seasons, and two untested rookie tight ends, one of which is rehabbing after ankle surgery.
Without Gronk, the Bucs are paper-thin at tight end.
Most yards after catch — TE (2021 season)

1. Travis Kelce — 564
2. Mark Andrews — 458
3. George Kittle — 450
4. Dallas Goedert — 386
5. Rob Gronkowski — 350#Chiefs #Ravens #49ers #Eagles #Buccaneers pic.twitter.com/fBKzg8Bnod

— Jeff Kerr (@JeffKerrCBS) April 19, 2022