Pace Chatter Is A Mirage
June 8th, 2022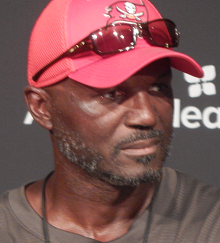 Eyes were opened yesterday when Pro Bowl center Ryan Jensen talked about how practice was faster than usual, and about how Tom Brady did a great job pushing the pace on his first day back to work.
Today, Todd Bowles, Mike Evans and Donovan Smith were asked about a ramp up in tempo and all threw cold water on it.
Evans and Bowles essentially said everything is the same as in past years. Smith noted how Bowles only runs underwear football practice on one field, whereas Bucco Bruce Arians had multiple fields going. Smith also said the Bucs finish their daily practice schedule early, which speaks to pace, but he didn't note it as a change.
So has Bowles ramped up spring practice, or has Brady, both without Arians as the big boss calling the shots?
The answer appears to be, No.
Joe's naked eye sees a crisp practice (and good zip on Kyle Trask's fastballs) but nothing much out of the Arians ordinary.