Mike Tannenbaum: Ranking Bucs Receivers
June 2nd, 2022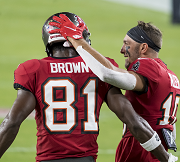 So if people are going to rank position groups, Joe will listen to the guy who did that very thing for a living in the NFL, as opposed to well-trained orangutans (coughtribecough).
Former Jets and Dolphins shot-caller Mike Tannenbaum, now a BSPN talking head, took to the website he founded, The33rdTeam.com, to rank receivers. Only in this case, he ranked each team's receiving corps and placed it in a tier.
One might think the Bucs would be in the top-tier, But no, Tannenbaum has Tampa Bay in the second tier. This list not only includes receivers but tight ends and running backs.
Tampa Bay Buccaneers:

Leonard Fournette, Giovani Bernard, Mike Evans, Chris Godwin, Russell Gage Jr, Cameron Brate, Cade Otton.
Notice there are two notable Bucs missing from Tannenbaum's list of targets, and Joe assumes for very different reasons.
One is foot-rubbing Bucs tight end Rob Gronkowski. Would Gronk's expected return bump the Bucs up to the first tier?
There is also a wide receiver missing. And he was missing last year too (ahem). Care to guess?
Tannenbaum has the Bucs in the same boat as Minnesota, New Orleans, Denver, Philadelphia, Buffalo, Carolina, San Francisco and Los Angeles.
Joe is pretty sure Tannenbaum graded down the Bucs because they are without V-card-forging, topless-jumping-jacks-exercising quitter Antonio Brown. Fair.
Joe would have to drink a whole bunch of Big Storm Brewing beers to hatch a notion that Russell Gage is Antonio Brown's equal.