Irony And Reality In Tom Brady "Continuity" Talk
June 18th, 2022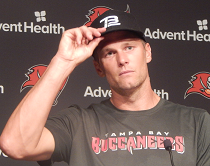 Our beloved Buccaneers have been busy again producing Episode 5 of their Below The Surface video series.
It's their Hard Knocks-style look at the offseason, this time with a focus around mandatory mincamp that concluded last week.
Tom Brady is reflecting as the episode opens during his drive to work from Davis Islands, and The Goat touches on why he believes greatness is there for the Bucs again this season.
"I think we've known each other better than we've ever known each other," Brady said. "And I think that's fun. I think the longer you're together — I think continuity is the biggest key to success in the NFL and doing things the right way over a period of time. That gives you the best opportunity to succeed."
That's a somewhat ironic take considering the head coach and the architect of the Bucs offense, Bucco Bruce Arians, just retired, in addition to the Bucs winning the Super Bowl in Brady's first Tampa Bay season.
New head coach Todd Bowles also is feeling the continuity, so he noted during the episode.
"Understanding what our schemes are whether Bruce [Arians] was here or whether I'm right here right now — you have to tweak them every year — but the closeness of us knowing most players and bringing in the type of players we want, the continuity part of it is great," Bowles said.
Obviously, the Bucs are a veteran team in Year 3 of the Brady era with the same playcallers on the both sides of the ball, but there are a lot of new parts this season.
There will be at least three new starters on offense and two or more on defense. There were no new starters to open last season.
Bowles was seen during the episode talking to the team after what appeared to be the first of three minicamp practices. He let them know too many players were repeating mistakes made during earlier OTA sessions.
"The effort's outstanding, but we're more sloppy than good," Bowles said.